Hawkeye Fan Shop — A Black & Gold Store | 24 Hawkeyes to Watch – 2017-18 | 2018 UWW World Cup | Hawk Talk Monthly — March | NCAA Wrestling Central | NCAA Notes | Brackets Session 1
CLEVELAND — Anything you can do I can do better. That's the challenge shared by roommates Michael Kemerer and Alex Marinelli.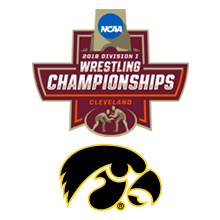 The Hawkeye duo, seeded fifth and sixth at their respective weights, combined for four pins in four matches on Day 1 of the 2018 NCAA Championships at Quicken Loans Arena.
 
Kemerer worked one minute, 37 seconds for a fall in his first 157-pound match Saturday afternoon. Minutes later, Marinelli finished his NCAA debut at 165 with a fall six minutes, 20 seconds.
 
The teammates retreated to their rooms between sessions, and returned for an encore in Round 2. This time Kemerer racked up back points and an 8-2 lead before ending his match in the fifth minute. Marinelli then bullied his way to an 8-2 lead before recording his fall in six minutes, 15 seconds.
 
"Kemerer and I feed off each other," Marinelli said. "He gets a pin. I want a pin. We're roommates right now. Living together in the hotel. We're shacking up and we're wanting to top each other. We both have two pins and it's pretty cool."
 
Kemerer placed third at the NCAA Championships last season. He entered the field this year with a 22-1 record, but was seeded sixth after injury defaulting to sixth place at the Big Ten Championships.
 
Marinelli also placed sixth at Big Tens, dropping his only three decisions of the season at the national qualifier.
Both wrestlers turned the page before arriving in Cleveland.
 
"We just had to improve after the Big Ten's, and we are going to do our best make a point of it," Kemerer said. "Right now we are just focusing on doing it right, getting food in you, making weight, and getting ready to roll. I am ready to go. It's the NCAA tournament and if you're not in the zone, you have to make yourself get in the zone."
 
"The little things are different," Marinelli said. "Body-wise I got a good warmup in. I got some good food in me. A lot of things are different this time and I like it."
 
Both wrestlers return to the quarterfinal round Friday morning. Marinelli gets the fourth seed from Rider, Chad Walsh. Kemerer faces third-seeded Jason Nolf, the defending NCAA Champion from Penn State.
 
"I am excited for it," Kemerer said. "It's a match everybody wants to see. It's a match I want. It's a match I've trained for. I am looking forward to going out there and scoring as many points as I can for my team."
 
Kemerer and Marinelli are two of Iowa's three quarterfinalists. Freshman Spencer Lee, the No. 3 seed at 125, outscored his opponents 36-0 in the opening two rounds. Five more Hawkeyes are alive in the wrestle-backs. Action resumes at Quicken Loans Arena on Friday at 10 a.m. (CT).