Hawkeye Fan Shop — A Black & Gold Store | 24 Hawkeyes to Watch 2017-18 | Hawk Talk Monthly – March 2018
Editor's Note: The following first appeared in the University of Iowa's Hawk Talk Daily, an e-newsletter that offers a daily look at the Iowa Hawkeyes, delivered free each morning to thousands of fans of the Hawkeyes worldwide. To receive daily news from the Iowa Hawkeyes, sign up HERE.
By CARI GOLD
hawkeyesports.com
IOWA CITY, Iowa — Many student-athletes dream about returning to their alma mater as a coach. For University of Iowa softball alum Rachel West, that dream became a reality.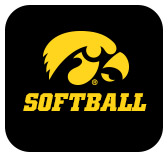 West, who played for the Hawkeyes from 2005-09 and was a volunteer assistant in 2016, joined the Iowa softball program as a full-time assistant coach during the summer of 2017.
 
West was an outfielder for the Hawkeyes, starting her career as a right-handed hitter and finishing as a slap hitter. She ranks fourth in school history in career steals (86), eighth in batting average (.341), and 18th in runs (95). In single-season record books, she ranks seventh in stolen bases (29) and 16th with four triples, both in 2007.
 
West had a strong career, but she remembers more than the statistics. In a recent post in the team's blog, The Dugout, West explained what she felt when she first became a Hawkeye.
 
"I don't remember a lot of the details of my playing days, but I'll never forget the way it felt stepping foot on campus for the first time as an Iowa Hawkeye," said West, a Danville, Iowa, native. "It was the beginning of one of the greatest, most cherished chapters in my life, and I didn't even know at the time just how impactful my years at Iowa were about to be."
 
As with many people who look back on their college years, there were countless memories. Sometimes, it's hard to choose a favorite.
 
"It's hard to pinpoint one memory as a favorite," said West. "My memories of being a Hawkeye are a compilation video in my mind with a wide range of memories that encompass my experience. These highlights include a wide range of things: team cheers, seeing my family in the stands, the fan love, scratching our numbers in Pearl's dirt before lineups, seeing each other succeed, throwing runners out, diving catches, the bubble runs, office talks with coach, and so many more.
 
"The total package is my favorite memory. The good, the bad, and the ugly; it was all a part of the experience of being a Hawkeye and I'd do it all over again in a heartbeat."
 
She doesn't get to do everything again, but as a coach, West gets to help others experience those same emotions of being a Hawkeye.
 
"Since I am an alum, I feel that there is some common ground that they can appreciate and relate to," said West.
 
Working with girls who now stand where she has stood gives West a different connection with the current Hawkeyes. Although she graduated before any of them began attending Iowa, the phrase "Once a Hawkeye, Always a Hawkeye" helps her bond in a different way than the other coaches.
 
"Something that makes being on this staff extra sweet is that I get to be part of the teams' experiences at my alma mater," said West. "I've been where they've been, as have the other staff, but I've had Iowa across my chest. I've represented this state, I've sat in those classes, I've sweated and bled on Pearl Field, and that is what makes this an even more unique and special opportunity to me."
 
At the end of the day, being back in black and gold and influencing the next generation of Hawkeyes is an opportunity West cherishes.
 
"I'm so excited to have a platform to make a difference in the lives of 22 young women at the greatest university in the country," said West. "That's my favorite part about being back at Iowa."
 
The Hawkeyes open their home slate on March 21 with a doubleheader against South Dakota State. First pitch is slated for 2 p.m. (CT) with game two following approximately 30 minutes following the conclusion of game one. Iowa opens conference action with a three-game series against No. 19 Michigan from March 23-25.