Hawkeye Fan Shop — A Black & Gold Store | 24 Hawkeyes to Watch – 2017-18 | Fight For Iowa | Hawk Talk Monthly — March 2018
Editor's Note: The following first appeared in the University of Iowa's Hawk Talk Daily, an e-newsletter that offers a daily look at the Iowa Hawkeyes, delivered free each morning to thousands of fans of the Hawkeyes worldwide. To receive daily news from the Iowa Hawkeyes, sign up HERE.
By JAMES ALLAN
hawkeyesports.com
IOWA CITY, Iowa — Chris Whelan was a breath of fresh air for the University of Iowa baseball team when he returned to the Hawkeye lineup in the three-game sweep of Evansville from March 17-18 at Duane Banks Field.
 
Whelan, an outfielder from Naperville, Illinois, missed the first month of the season recovering from Tommy John surgery. He suffered the injury in the fall during Iowa's Scout Day and was cleared to return March 14.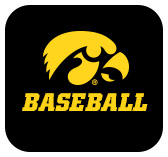 "It was a breath of fresh air to have him back," said Iowa head coach Rick Heller. "We have all been waiting for that.  To have him go out and perform the way he did was special."
 
It was like riding a bike in his return. In his first at-bat of the season, Whelan ripped an 0-2 pitch to right field for a single and he finished the game 2-for-5 with two runs in an 8-3 Hawkeye victory.
 
Whelan followed with a second two-hit game, finishing 2-for-3 with two runs and two walks in a 10-3 victory in game two of the March 17 doubleheader. He hit safely in a third straight game to help Iowa complete the three game sweep, going 1-for-4 in the series finale.
 
"I am trying not to focus too much on my personal performance, I am glad we got the sweep," said Whelan, who hit .417 (5-of-12) with four runs, two walks, and a .500 on-base percentage in the series. "I am happy I am out there, having good at-bats, and doing what I can do for the team to help them win."
 
Whelan says his time away — a 14-game stretch where Iowa went 8-6 — gave him a greater appreciation for what he was missing.
 
"It was tough at first because it felt like I was on a treadmill with my rehab," said Whelan. "Once we got into the first couple of weekends, it was more of a waiting game. I have never had to have that much patience in my life, especially with baseball.  It taught me a lot and gave me some life lessons along the way.
 
"Spending a lot of the last month on the bench, I learned about what it takes to come back, appreciate all the time I've taken off, and fall back in love with the game. I have a newfound appreciation for the game and I have more energy when we play."
 
Heller says Whelan did his best to keep the Hawkeyes loose when he wasn't in the lineup, but it was clear the team is in a better place with No. 28 in the lineup.
 
"Chris has a fun, outgoing personality and he did his best to keep things light in the dugout, but it's better when Chris is playing," said Heller. "I think everybody was like, 'Alright, we have our guy back. We have our leadoff guy that's going to get on base and we added another quality hitter that is going to give us a quality at-bat in the lineup."
 
Whelan didn't know how things would play out in his return to the lineup, so his focus was on providing a lift with his positive energy.
 
"One thing I wanted to bring back was trying to get on base and bring energy back to the team and keep guys loose no matter how they're doing," said Whelan. "I try to be a positive guy and if guys are having a bad day, I try to bring them along for the ride."
 
Whelan's return gave the Hawkeyes a lift when his name was penciled on Iowa's lineup card.
 
"Chris brings a different type of energy to our team," said sophomore Kyle Crowl. "He's a great guy to have around and having him at the top of the lineup, we were carrying our chests out a little higher.  It's good to have him back."
 
Whelan is Iowa's breath of fresh air with Big Ten play on the horizon.
 
Iowa hosts two midweek contests, facing Saint Louis on Tuesday at 3:05 p.m. (CT) and Loras College on Wednesday at 4:05 p.m. The Hawkeyes then host 11th-ranked Indiana from March 23-25 in its opening Big Ten Conference series.