Hawk Talk Monthly — March 2018 | Sign Up For Season Tickets | Ticket Renewal Link | Kirk Ferentz Transcript
By DARREN MILLER
hawkeyesports.com
IOWA CITY, Iowa — There are two additions in the Stew and LeNore Hansen Football Performance Center: framed paintings of University of Iowa football consensus All-Americans Josh Jackson and Josey Jewell.
 
Jackson and Jewell wrote different stories and took different paths to greatness as Hawkeyes. One thing they had in common — other than being defensive players who enjoyed successful careers — is that they seized opportunities last March when spring drills commenced.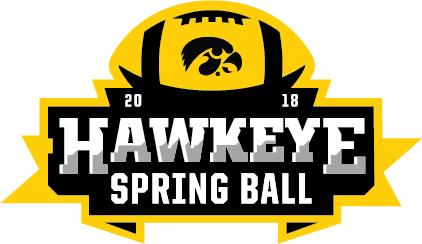 There are undoubtedly players like Jackson and Jewell among the current Hawkeyes who begin practice Wednesday. Who will emerge? Who will seize an opportunity? That remains to be seen, but it is also why Iowa head coach Kirk Ferentz enjoys spring ball.
 
"Spring football practice is always one of the favorite times of the year for us as coaches," Ferentz said Tuesday during a news conference in the Stew and LeNore Hansen Football Performance Center. "It's an opportunity for us to learn more about who we are as a team and maybe, more importantly, what kind of football team we can become. It starts with a commitment from our players, coaches, and staff toward winning a Big Ten Championship, and that's not easy to do."
 
The Hawkeyes are coming off an 8-5 season that ended with a 27-20 victory over Boston College in the New Era Pinstripe Bowl in New York. It marked Iowa's fifth consecutive winning season and its 15th bowl appearance in 19 seasons.
 
"One prediction I'll make, when you get to see the team in April, hopefully it's going to look a lot better in September," Ferentz said. "We will not look like world beaters in April."
 
Iowa returns 14 starters, including junior tight end Noah Fant, who was named third-team all-Big Ten by coaches and media. Junior defensive end Anthony Nelson was named third-team by media and honorable mention by coaches; junior quarterback Nate Stanley was honorable mention by media.
 
All three are listed at the top of the depth chart in the preseason prospectus. Ferentz admits that some returners should be considered locks as starters, otherwise he doesn't put stock in a March depth chart.
 
"I say it to our players every year, the depth chart right now is pretty meaningless," Ferentz said. "We have guys that are experienced that probably shouldn't be beaten out, but they still have to go do it on the field. Their job is not only to practice, but practice well and improve. If they're not improving, we're going to have a problem."
 
In personnel news, Ferentz said junior Jake Newborg and redshirt freshmen Levi Duwa and Camron Harrell have switched from defense to offense. Newborg and Duwa will be on the line and Harrell will see time at running back.
 
Sophomore defensive tackle Daviyon Nixon will spend the 2018 season as an academic redshirt who will practice, but cannot see game action.
 
Six student-athletes will be held out of spring practice for medical reasons. They are seniors Austin Kelly, Matt Nelson, and Brandon Snyder, and sophomores Toks Akinribade, Romeo McKnight, and Kyle Taylor.
 
The Hawkeyes will practice three days a week for five weeks during March and April. The final practice on April 20 will be open to the public inside Kinnick Stadium.
 
Reminder that the football season ticket renewal deadline is March 30 (LINK). Visit hawkeyesports.com to sign up for new season tickets and be included in the seat selection process (LINK).