Hawkeye Fan Shop — A Black & Gold Store | Fight For Iowa | Hawk Talk Monthly — March | WSU Iowa BOX
WICHITA, Kansas — The University of Iowa women's tennis team fell to No. 33 Wichita State, 5-2, on Friday at the Coleman Tennis Complex in Wichita, Kansas.
 
The Shockers started the match by grabbing the doubles point with wins on courts one and two.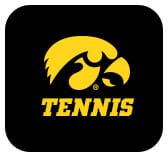 No. 47 sophomore Elise van Heuvelen and senior Anastasia Reimchen fell to Fatima Bizhukova and Marta Bellucco, 6-2, on court two.
 
On court one, senior Zoe Douglas and junior Adorabol Huckleby fell to Giulia Guidetti and Ting-Ya Hsu, 6-3. Seniors Montana Crawford and Adrienne Jensen's match went unfinished.
 
Huckleby and Crawford captured two singles wins for the Hawkeyes at the four and five positions, respectively. Huckleby defeated Bellucco in straight sets, 6-3, 6-2, which extends her record at the No. 4 position to 3-1.
 
Crawford topped Sarvinoz Saidhujaeva in a third-set tie breaker, 7-5, 2-6, 1-0 (10-7).
 
Van Heuvelen dropped her match at the No. 1 position to No. 68 Bizhukova, 6-2, 6-2.
 
QUOTING HEAD COACH SASHA SCHMID
"Today was good for us. We played a strong team outside in some windy conditions. It's tough to be short of four points today, but I am happy for Dori and Montana's win in singles. They can really build on the confidence they gained from today."
 
UP NEXT
The Hawkeyes are back in action Sunday at 11 a.m. (CT) hosting No. 27 Ohio State at the Hawkeye Tennis and Recreation Complex. Admission is free.
 
WICHITA STATE 5, IOWA 2
March 23, 2018 | 9 a.m. (CT) |Wichita, Kansas | Coleman Tennis Complex
 
SINGLES
#68 Fatima Bizhukova (WICH) def. Elise van Heuvelen (IOWA) 6-2, 6-2
Sandra Honigova (WICH) def. Zoe Douglas (IOWA) 6-2, 6-2
Giulia Guidetti (WICH) def. Anastasia Reimchen (IOWA) 6-2, 6-0  
Adorabol Huckleby (IOWA) def. Marta Bellucco (WICH) 6-3, 6-2  
Montana Crawford (IOWA) def. Sarvinoz Saidhujaeva (WICH) 7-5, 2-6, 1-0 (10-7)  
Alexandra Lazarova (WICH) def. Adrienne Jensen (IOWA) 6-0, 6-0
DOUBLES
1. Bizhukova/ Bellucco (WICH) def. #47 van Heuvelen/ Reimchen (IOWA) 6-2
2.  Guidetti/ Hsu (WICH) def.  Douglas/ Huckleby (IOWA) 6-3
3. Lazarova/ Saidhujaeva (WICH) vs. Crawford/ Jensen (IOWA) 5-3, unfinished
 
MATCH NOTES:
 Iowa: 9-7
Wichita State: 14-5; National ranking #33
Order of finish: Doubles (2,1); Singles (6,3,4,1,2,5)
Wichita State now leads the all-time series, 5-4.