Hawkeye Fan Shop — A Black & Gold Store | 24 Hawkeyes to Watch – 2017-18 | 2018 UWW World Cup | Hawk Talk Monthly — March | NCAA Wrestling Central
Editor's Note: The following first appeared in the University of Iowa's Hawk Talk Daily, an e-newsletter that offers a daily look at the Iowa Hawkeyes, delivered free each morning to thousands of fans of the Hawkeyes worldwide. To receive daily news from the Iowa Hawkeyes, sign up HERE.
By DARREN MILLER
hawkeyesports.com
IOWA CITY, Iowa — The fifth session of the 2018 NCAA Wrestling Championships had ended when University of Iowa wrestler Alex Marinelli sat down to address the media. The 165-pounder was asked to put his sixth-place showing into perspective.
 
Mid-answer, the redshirt freshman from Miamisburg, Ohio, paused before choking out a response.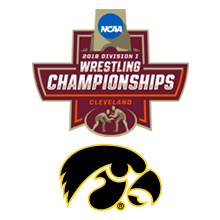 "My ultimate goal was to be a national champion. It feels good to be an All-American, but…" Marinelli looked toward the concrete floor in Quicken Loans Arena and struggled to continue. "You can tell it hurts me for sure."
 
Marinelli finished the season 19-6 and became the first All-American for the Hawkeyes at 165 pounds since Ryan Morningstar placed seventh in 2010. Morningstar recruited Marinelli, coaches him, and sat in his corner throughout the postseason.
 
"He is one of the best competitors I have been around," Morningstar said. "His competitive attitude is what drives him and that's what will get him to the top. There are a lot of things burning in him right now because he went to the tournament and didn't accomplish what he wanted to accomplish."
 
Marinelli, the fifth seed in a loaded 165-pound bracket, opened with falls over Jacob Morrissey of Purdue and Nick Wanzek of Minnesota. A 7-6 victory over fourth-seeded Chad Walsh of Rider sent Marinelli to the semifinals, where top-seeded Isaiah Martinez awaited with a berth in the national finals on the line. A hard-fought 5-2 win by Martinez sent Marinelli to wrestlebacks, where he finished sixth.
 
"It's a learning process," Marinelli said. "You're on a high, you're on a mountain, and you get knocked off and you have to keep going. You have to face adversity and it's a learning experience."
 
One of Marinelli's victories this season was a 9-6 decision over two-time NCAA champion Vincenzo Joseph of Penn State on Feb. 10. Marinelli was 14-0 heading into the postseason, then went 5-6 over his final 11 matches. Those late results are already driving Marinelli toward the 2019 NCAA Championships in Pittsburgh.
 
Morningstar said that Marinelli began moving forward during Saturday's van ride from the arena to the team hotel. He was moving forward on Sunday's bus ride back to Iowa City, Iowa. 
 
"He is going to be back and more mature," Morningstar said. "His upside is huge because there are a lot of things he knows he can correct and will correct. He has to be patient these next 364 days until the national tournament."
 
Days of rest for Marinelli could extend into weeks. It will be a needed mental pause, but it will also provide a respite for his left knee. The large brace he wore on his leg indicates that all isn't perfect with the knee, but Marinelli won't use that as an excuse.
 
"Hurting is different than injured," Marinelli said. "I'm not injured, I can wrestle; you saw me wrestle out there."
 
Then he wondered what might have been.
 
"If my knee wasn't bad, who knows?" he said. "I just have to get healthy and keep training. My mind isn't on my knee, it's on positions. I have to be better on bottom, I have to be better moving the guy, staying low on my feet, everything in every position."
 
Thanks to Marinelli's All-America effort, there have now been Hawkeyes on the national awards podium in nine of 10 weight classes over the course of the last three seasons. Marinelli stood in sixth place; his goal is to move three positions to the center and top.
 
"The fans will say I wrestled great and they are proud of me," Marinelli said. "But I have really high goals. I read to myself every day that I'm going to be a national champion and when I don't get it…I didn't wrestle very well in positions, but it's a learning experience and I'm not going to let it derail or hurt me. I am going to build."
 
IOWA'S MOST RECENT ALL-AMERICANS
| | | | |
| --- | --- | --- | --- |
| WEIGHT | NAME | PLACE | YEAR |
| 125 | Spencer Lee | CHAMPION | 2018 |
| 133 | Cory Clark | CHAMPION | 2017 |
| 141 | Montell Marion | RUNNER-UP | 2012 |
| 149 | Brandon Sorensen | 5th | 2018 |
| 157 | Michael Kemerer | 4th | 2018 |
| 165 | Alex Marinelli | 6th | 2018 |
| 174 | Alex Meyer | 8th | 2016 |
| 184 | Sammy Brooks | 4th | 2017 |
| 197 | Nathan Burak | 4th | 2016 |
| 285 | Sam Stoll | 5th | 2018 |