Hawkeye Fan Shop — A Black & Gold Store | 24 Hawkeyes to Watch – 2017-18 | Hawk Talk Monthly – March 2018 | Final Results (PDF)
CHAMPAIGN, ILL. – The University of Iowa women's gymnastics team earned a season-high 196.400 to finish third in session II — and fourth overall — at the 2018 Big Ten Championships at the State Farm Center on Saturday evening.
The Hawkeyes competed with No.7 Michigan, No. 23 Minnesota, No. 24 Ohio State, Illinois, and Maryland in session II of the Big Ten Championships. Michigan captured the Big Ten title with a score of 197.200.
In addition to Iowa's season high, two GymHawks received individual conference awards. Sophomore Charlotte Sullivan was named to the all-championship team for the first time in her career, while Gina Leal collected the Sportsmanship Award.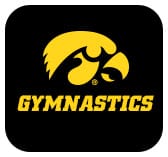 MEET HIGHLIGHTS
The Hawkeyes registered a season-high score of 196.400.
Iowa earned a season-best 49.100 on vault.
Eight GymHawks tallied a total of 15 top-20 finishes during the competition
HEAR FROM COACH LIBBY
"Tonight was absolutely amazing. From start to finish this team was on fire! I am so proud of these ladies and I couldn't be happier with the way they represented the Hawkeyes tonight. There are no fans like Iowa fans and they truly made the difference for us. We felt their energy with us the entire night. So excited that we will once again qualify for NCAA postseason."
ALL-AROUND
Junior Nicole Chow finished sixth in the all-around with a career-high 39.325. This marks Iowa's individual season high in the all-around. Sullivan followed in eighth place with a 39.275.
BEAM
Iowa began the competition on beam with a score of 49.025. Chow led the way for the Hawkeyes with a score of 9.850 and a sixth-place finish. Juniors Misty-Jade Carlson and Sydney Hogan and Sullivan registered scores of 9.800. This marks a career best for Carlson.
FLOOR
Following a bye, the Hawkeyes moved to floor and recorded a 49.125. Senior Lanie Snyder had the best finish for Iowa ­with a score of 9.875. Chow followed with a 9.850, tying her personal best.
VAULT
The GymHawks earned a season-high 49.100 on vault. Sullivan placed third overall with a career-high 9.875, while Chow followed in fourth with personal-best 9.850. Seniors Melissa Zurawski and Nikki Youd posted scores of 9.800.
BARS
Iowa concluded the meet with a 49.150 on bars. Zurawski tallied a season-best 9.900 to finish sixth. Snyder and junior Maria Ortiz both posted scores of 9.825. This marks a personal best for Ortiz.
UP NEXT
The NCAA Regional selection show will take place on Monday at 3 p.m. (CT) on NCAA.com.
Thirty-six teams, chosen based on their regional qualifying score and seeded by the NCAA Women's Gymnastics Committee, will compete in the NCAA Regionals. Twenty-four all-around competitors and 48 individual event specialists (all of whom are not on a qualifying team) will compete as well