Hawkeye Fan Shop — A Black & Gold Store | Fight For Iowa | Hawk Talk Monthly — March
Editor's Note: The following first appeared in the University of Iowa's Hawk Talk Daily, an e-newsletter that offers a daily look at the Iowa Hawkeyes, delivered free each morning to thousands of fans of the Hawkeyes worldwide. To receive daily news from the Iowa Hawkeyes, sign up HERE.
By RICK BROWN
hawkeyesports.com
IOWA CITY, Iowa — CJ Fredrick's high school basketball career came to a storybook ending on March 18, winning a Kentucky state championship at Rupp Arena in Lexington, Kentucky.
 
As the celebration moved into high gear, Fredrick looked into the crowd and saw his dad, Chuck. He wasn't expecting to see the guy standing next to him.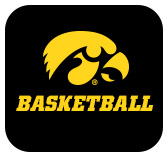 It was University of Iowa head men's basketball coach Fran McCaffery, who had just watched Fredrick wrap up most valuable player honors with a 32-point performance as his Covington Catholic team beat No. 1 Scott County, 73-55, in the title game
 
"He was able to come down to the court and he said how proud he was of me, and he couldn't wait for me to be in Iowa City," Fredrick said.
 
McCaffery signed Fredrick to a National Letter of Intent in November. The 6-foot, 4-inch guard was named Gatorade Player of the Year in Kentucky after averaging 23.1 points for a 35-4 team that ended the season on a 23-game winning streak.
 
McCaffery was impressed with what he saw from Fredrick in the title game.
 
"The first thing I think of is his composure," McCaffery said.  "Because you had a huge crowd, in Rupp Arena, a state championship game against the No. 1 team, a big-time atmosphere. Right from the beginning he controlled the game; he controlled it in every facet."
 
This will be the second time McCaffery has coached a Fredrick. CJ's uncle, Joe, played off-guard at Notre Dame when McCaffery was a Fighting Irish assistant coach.  Joe played in four straight NCAA Tournaments and scored 1,058 points in a career that ended after the1989-90 season.
 
"I remember Joe hitting a game winner against Indiana," McCaffery said. "He hit one to beat LaSalle when they had Lionel Simmons. He was a big shot maker. He was the guy who made the dagger 3-pointer when the game was in the balance."
 
CJ said his uncle has been a motivating force in his development as a basketball player.
 
"He has been a big part of me wanting to become a great player," CJ said. "When I was young, I can remember people telling me how great he was. He was a role model for me. I wanted to be just like him. I would get text messages from him when I was in the eighth grade, and my freshman year, telling me, "You've got to work harder. I played at that level. You've got to work a lot harder.'"
 
CJ took his uncle's advice to heart. He also expanded his game this season, playing both the off-guard and point-guard positions to take some pressure off his teammate, Aiden Ruthsatz.
 
"I would say after this season that I feel a lot more confident playing the point," Fredrick said. "There are more things I need to get better at, but I feel comfortable playing both (guard) positions."
 
Iowa started recruiting Fredrick when he was a sophomore.
 
"When there was even a possibility of going to Iowa, I just fell in love with the school," Fredrick said. "When I started to watch them play, I was like, "Man, this is where I can be successful.'"
 
Fredrick committed to Iowa even though there were no available scholarships, and passed on offers from the likes of Xavier, Penn State, and Nebraska. McCaffery even talked to Fredrick about attending prep school for a year, but CJ would have none of it.
 
"I said I would do anything to go there," Fredrick said. "I was going to pay for my first year."
 
A week before signing date, guard Christian Williams decided to transfer. McCaffery called Fredrick and offered the scholarship.
 
"It was the best feeling in the world," Fredrick said. "Icing on the cake."
 
In addition to his hefty scoring average, which ballooned to 27.8 points a game in Covington Catholic's four state tournament contests, Fredrick shot 58.3 percent from the field, including 48.8 percent from 3-point distance (107-of-219). He also shot 84.9 percent from the free-throw line, including 31-of-33 shooting from the charity stripe in four games at state.
 
Gaudy numbers, for sure, but Fredrick knows he's far from a finished product. His offseason to-do list, which includes time in the weight room, is quite long.
 
"I'm going to continue working on my ball handling," CJ said. "Guards in the Big Ten are quick. I'm going to continue, as my coaches have told me, to get the ball on a string. I have to keep my handle quicker. My shot is pretty quick, but I have to get that release off quicker to be able to knock down shots consistently. I need to work on my speed, lateral quickness, defense, jumping ability, all that."
 
Some day, maybe CJ can match Uncle Joe's collegiate accomplishments.
 
"We haven't really talked about that yet," CJ said.
 
But McCaffery said CJ and Joe already share one important characteristic.
 
"They both have winning DNA," McCaffery said.