Hawk Talk Monthly — March 2018 | Sign Up For Season Tickets | Ticket Renewal Link | VIDEO — Players Discuss Spring Practice | VIDEO — Defense Works Toward September
By DARREN MILLER
hawkeyesports.com
IOWA CITY, Iowa — To get a better understanding of what University of Iowa assistant defensive coordinator Seth Wallace means when he says some of the Hawkeye linebackers are "drinking from a firehose," consider this:
 
The six student-athletes listed on the spring depth chart at linebacker combined for 28 tackles during the 2017 season. In other words, 106 fewer tackles than consensus All-America middle linebacker Josey Jewell. Iowa's top three tacklers from a year ago — Jewell, Bo Bower, and Ben Niemann — were all linebackers and they all graduated, making room for the likes of seniors Jack Hockaday and Aaron Mends, juniors Amani Jones and Christian Welch, and sophomores Nick Niemann and Barrington Wade.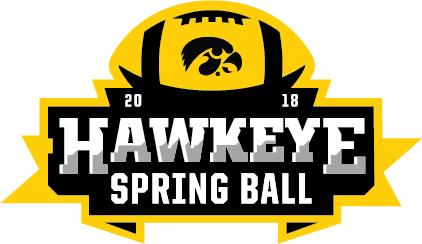 Mends and Niemann played in all 13 games last season, Jones in 12, Welch in 10, and Hockaday in six.
 
"They are into it and they are further ahead than a lot people give them credit for," Wallace said Tuesday at a news conference in the Stew and LeNore Hansen Football Performance Center. "If the guys in the (linebacker meeting) room have paid attention, if they have stayed engaged and invested in what is being taught, then I think they can learn from everybody's mistakes.
 
"Those guys have been engaged. We have had linebackers involved in special teams — you try to keep them engaged, out there with a purpose. It has kept them engaged in linebacker meetings. They have a lot to learn, but it's not like we're starting with a zero degree learning model."
 
After the first three of 15 spring practices, Wallace referred to the linebacker group as a "mixed bag." He has seen effort, concentration, hard work, and hunger. About the only thing missing is actual playing time, where communication improves and the big picture becomes more easily understood.
 
With new roles and increased playing time comes more confusion. Wallace said that after three practices, the linebackers have already submitted eight pages of questions.
 
"It's a matter of getting as much in front of them as you can to develop them mentally and conceptually from a defensive standpoint," he said.
 
The Hawkeyes finished the 2017 season with a record of 8-5, concluding with a win at Nebraska on Black Friday and a 27-20 victory over Boston College in the New Era Pinstripe Bowl. Iowa tied for 17th in the nation in scoring defense, allowing 19.9 points per game and was 36th in total defense, giving up 357.5 yards per game.
 
A solid group of veteran linebackers contributed to those stingy numbers. It's now time for a new, somewhat untested, group to step up.
 
"We are probably through the first chapter of a 40 chapter book; right now is kind of an incubator from a football standpoint," Wallace said. "We're not at full speed and we aren't trying to take an exam every Saturday, so you get a good deal of time to spend with them and go over things. We need guys who are buying into it, who are walking through the building when we aren't with them."
 
Iowa opens the season with four straight home games, beginning with Northern Illinois on Sept. 1.
 
 
Reminder that the football season ticket renewal deadline is March 30 (LINK). Visit hawkeyesports.com to sign up for new season tickets and be included in the seat selection process (LINK).