Hawkeye Fan Shop — A Black & Gold Store | 24 Hawkeyes to Watch – 2017-18 | 2018 UWW World Cup | Hawk Talk Monthly — March | NCAA Wrestling Central | VIDEO — Spencer Lee
Editor's Note: The following first appeared in the University of Iowa's Hawk Talk Daily, an e-newsletter that offers a daily look at the Iowa Hawkeyes, delivered free each morning to thousands of fans of the Hawkeyes worldwide. To receive daily news from the Iowa Hawkeyes, sign up HERE.
By DARREN MILLER
hawkeyesports.com
IOWA CITY, Iowa — Of all the lessons Larry Lee has passed on to his son, the most important — at least to the younger Lee — is this: Stay humble off the mat and an animal on the mat.
 
"My dad told me that when I was six years old and started wrestling," said Spencer Lee, now a national champion for the University of Iowa. "He said, 'what would make me more proud than hearing you're a good wrestler would be hearing you're a good kid.'"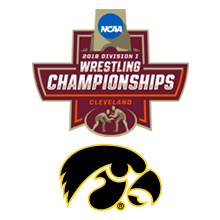 Spencer Lee lives his father's advice. The freshman 125-pound team MVP appears to be universally adored for his sportsmanship off the mat and his proficiency on. Friend or foe, if you don't appreciate the excitement Lee brings to college wrestling, chances are you don't appreciate anyone or anything.
 
On March 17 in Cleveland, Lee completed a blitz through a brutally challenging bracket — the most difficult of any of the 10 weights — to become Iowa's 55th different wrestling national champion. He scored 27 team points — more than any of the other 329 competitors at the NCAA Championships — via two technical falls, two falls, and a dominating 5-1 victory in the finals.
 
"It is a credit to (Iowa head coach) Tom (Brands), (Iowa associate head coach) Terry (Brands), (Young Guns club coach) Jody (Strittmatter), and my high school coaches being able to prepare me mentally and physically for this kind of grind," Lee said.
 
Adding to his humbleness is the relationship Lee has with his challengers.
 
"I don't see why you have to be enemies with your opponents," he said.
 
Lee has repeatedly gone public with his respect for former training partner and four-time Big Ten champion Nathan Tomasello of Ohio State, who Lee pinned in the national semifinals.
 
"It sucks, but to realize my dreams I had to crush his," Lee said. "If I redshirted, maybe (Tomasello) does win this year. He said he wanted to be known as a warrior and I think he is pretty well known as a warrior."
 
After failing to meet 2018 NCAA runner-up Nick Suriano of Rutgers in the finals of the 2017 Midlands Championships, Lee apologized to his Big Ten adversary, then asked a favor.
 
"I told Suriano at Midlands, 'Sorry I didn't make it to finals, but if we make it against each other at NCAAs or Big Tens, let's put on a show, you promise me that?'" Lee said. "'Will we put on a show?' He looked at me and said, 'Yeah, that sounds good.'"
 
A tap of knuckles sealed it.
 
Lee has Hawkeye fans 'geeking out'
 
Who is Spencer Lee, other than a wrestling phenomenon who is fresh air to the sport and to the Hawkeye program? If you aren't comfortable describing him as special or unique, Lee will assist with an alternate label.
 
"I'm such a geek," he said with a laugh.
 
Fans of Pokémon Video Game Championships know where this is going. Before the NCAA finals, Lee, an avid competitive Pokémon player, ran from a tunnel to the elevated mat in Cleveland's Quicken Loans Arena to the theme song that was released in 1999, a year after he and his twin sister, Gaby, were born.
 
The song selection invoked thousands of comments on social media, but Lee insists it was no joke. The musical choice was perfect and has meaning.
 
"It has a place in my heart with wrestling," Lee said. "They go hand-in-hand with me. I'm not saying you have to be a good Pokémon player to be a good wrestler, but it helped me focus before the match."
 
In fact, between matches at youth tournaments, Larry Lee encouraged his son to scurry off with friends and play video games. He would let Spencer know when his next match was approaching.
 
"He wanted me to have a social life and enjoy it," Lee said.
 
After his semifinal victory over Tomasello, an NCAA representative asked Lee for his choice of walk-out music. He originally picked "We Will Rock You" by Queen, then quickly called an audible. Months earlier, Lee was talking with Hawkeye All-American Sammy Brooks, who said if Lee made finals, he should select the Pokémon tune.
 
Listen to the lyrics and it's understandable.
 
I wanna be the very best, like no one ever was…
 
Every challenge along the way, with courage I will face. I will battle every day, to claim my rightful place. Come with me, the time is right, there's no better team. Arm in arm we'll win the fight, it's always been our dream.
 
"It was legit. I really am a huge competitive Pokémon fan," said Lee, whose favorite Pokémon is Arcanine, a first generation original.
 
Terry Brands even summons the name of Lee's favored Pokémon as motivation before matches, saying "Arcanine, when it's time."
 
"It keeps it light, you kind of smile," Lee said. "Then I think, you're right coach, when it's time."
 
Parents Have a Background in Judo
 
If the sport of judo was more popular in the United States, Lee would probably be exceling in that, rather than wrestling. His father was one of the original judo coaches who worked two cycles for the Olympic and Para-Olympic teams. His mother, Cathy, was an alternate for the Olympic Games in 1992. Spencer is confident she would have made Olympic teams in 1996 and 2000 had she not retired to focus on family.
 
At 5-foot-3, Spencer is in the middle of his 5-6 father and 4-11 mother.
 
"It could be genetics helping me out," said Spencer, who projects to stay at 125 pounds his entire collegiate career.
 
Larry used wrestling to help his judo, Spencer uses judo to help his wrestling. Spencer calls his style "wrestling judo," and it features judo holds and grabs that are not only legal, but beneficial to freestyle and folkstyle wrestling.
 
Staying active (and humble) growing up
 
Like most of his friends, Lee participated in several sports growing up. He tried football, but felt he was too small. He hated baseball because he wanted to either bat every time on offense or have a ball hit to him every time on defense. He played soccer and ran cross country until eighth grade.
 
Once in eighth grade, Lee's athletic focus was solely on wrestling.
 
Larry Lee isn't the only parent to teach Spencer the importance of being humble. One afternoon, while Spencer was between wrestling practices, his mother stopped to drop off a snack and drink. Spencer was a freshman at Franklin Regional High School in Murrysville, Pennsylvania, and for some regrettable reason, he began to mix it up with Cathy.
 
"Everyone is sitting around talking, relaxing, getting ready for the next part of practice," Lee said. "I start messing with her; judo is grip fighting, so I'm moving her and messing around and all of a sudden I launch her. I slammed her hard. She's 4-11, 106 pounds. I'm a 126-pounder in high school. My coaches were like, oh my god, he just slammed his mom."
 
Game on. Cathy stayed on the mat as Spencer pounced.
 
"I put her down hard, but she's tough," Spencer said. "She has been thrown her whole life, that's all judo is."
 
Soon Cathy grabbed her son's T-shirt, hooked her legs around Spencer's head and whipped her high school-aged son over her head. Spencer's arm was straight; Cathy had an arm bar.
 
A few seconds later, Spencer tapped out, the martial arts equivalent of begging for mercy. The wrestling room erupted into a chorus of "Ohhh Spenc, you just got tapped out by your mom."
 
"She gets up and says, 'Don't mess with me' and walks off the mat like it was nothing," Spencer said. "She is awesome."
 
Not many collegiate lightweight wrestlers enjoy messing with Spencer. Since he joined Iowa's varsity lineup on Jan. 5, Lee has gone 16-1 with six falls and five technical falls. He received the Hammer Award, presented to the college wrestler that wins what is perceived as the toughest bracket at the NCAA Championships.
 
"The reaction has been awesome," Lee said. "It feels good to win for a great university like the University of Iowa."
 
The Future
The 2018-19 season marks five years since Jesse Delgado of Illinois successfully defended the 125-pound national championship he won in 2013. Since the weight class changed to 125 pounds in 1998-99, only Delgado, Stephen Abas, and Joe Dubuque have won back-to-back national titles.
 
In 2019, the NCAA Championships will be held in Pittsburgh, 30 minutes west of Lee's hometown of Murrysville.
 
"I'm worried about freestyle right now, I'll focus on next season when it gets here," Lee said. "For now, the focus is on being 100 percent healthy and feeling good."
 
Chances are, Lee will spend plenty of time on the mat in the offseason; he will also spend a good portion playing competitive Pokémon. His favorite, the fiercely brave and loyal Arcanine, has long been admired in Pokémon circles for the notorious flame blazing deep within its body.
 
Fiercely brave. Loyal. Flame blazing within. Those are also accurate descriptors of Lee.