24 Hawkeyes to Watch 2016-17 | Fight For Iowa | Hawk Talk Monthly — May 2018
Editor's Note: The following first appeared in the University of Iowa's Hawk Talk Daily, an e-newsletter that offers a daily look at the Iowa Hawkeyes, delivered free each morning to thousands of fans of the Hawkeyes worldwide. To receive daily news from the Iowa Hawkeyes, sign up HERE.
By JAMES ALLAN
hawkeyesports.com
IOWA CITY, Iowa — Corey Burns wasn't ready to hang up her cleats when her University of Iowa soccer career concluded at the 2017 Big Ten Tournament in Columbus, Ohio.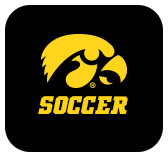 Throughout her four years as a Hawkeye, playing professional soccer was always in the back of Burns' mind. When Iowa was on the short end of a 2-1 overtime decision to top-seeded Ohio State in October, it helped Burns make her decision.
 
"Once the season was over, I wasn't ready to accept the fact that I was fully done with soccer," said Burns, a defender from Green Oaks, Illinois. "My coaches approached me and said they had contacts overseas and they thought I would be a great fit."
 
It was the nudge Burns needed.
 
She began looking for opportunities at the start of the spring semester.  In mid-April, Iowa head coach Dave DiIanni sent Burns a text saying a contact in Denmark had a good opportunity for her.
 
It turned out to be the perfect fit. Burns agreed to a professional contract on April 22 with FC Nordsjælland in Denmark.
 
"It's everything I was looking for in a team," said Burns. "It's 20 minutes north of Copenhagen. A lot of my cousins have traveled there and they say Copenhagen is amazing. It can't be any better than this."
 
FC Nordsjælland is a start-up team in its second year of existence and is playing in the lower division.  It's a program that is being set up to mirror the men's team — one that competes in the Champions League, the highest league in Europe.  
 
"They're looking for players who want to help build up the program," said Burns. "They need to start at the bottom league, win those, and move up.  They want players who are willing to build the program."
 
It's a position where Burns has excelled.  She was part of Iowa's first NCAA Tournament team as a freshman in 2013 before she helped rebuild the Hawkeyes over her final four seasons.  She was Iowa's Defensive Player of the Year and a Big Ten All-Tournament team selection as a senior, helping Iowa win nine matches and earn a postseason berth for the first time in three seasons.
 
In Burns' eyes, there was nothing to lose. She wants to experience first-hand the stories she heard from various former teammates, including Alex Melin and Hannah Clark, who played in Amsterdam and Sweden.
 
"My family told me you won't regret going there and playing, but you'll regret not going," said Burns.
 
Burns has never been to Europe. She is looking forward to experiencing a different culture in a team-oriented environment.
 
"It's like when you go to college," said Burns. "You have an immediate family with your team and that will be cool to have an immediate family with girls from Denmark and other countries who are on the team.
 
"I am looking forward to experiencing the Danish life and soccer culture. I have heard it is insane, especially with the men's team. I am excited to see how they live and experience that."