Hawk Talk Monthly — May 2018 | 24 Hawkeyes to Watch 2017-18 | Hawkeye Fan Shop — A Black & Gold Store
Editor's Note: The following first appeared in the University of Iowa's Hawk Talk Daily, an e-newsletter that offers a daily look at the Iowa Hawkeyes, delivered free each morning to thousands of fans of the Hawkeyes worldwide. To receive daily news from the Iowa Hawkeyes, sign up HERE.
By BRANDEE BRITT
hawkeyesports.com
IOWA CITY, Iowa — After 43 weeks of chemotherapy and 28 days of radiation it is clear that Harper Stribe is one incredibly strong Hawkeye.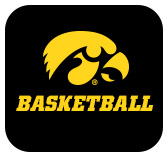 Harper is an active 6-year-old who has been playing sports for as long as she can remember, but last summer, when her parents noticed a rapidly growing lump on her cheek, one word drastically changed everything: cancer.
 
On June 28, 2017, Harper was diagnosed with Stage 1 Embryonal Rhabdomyosarcoma, and shortly after her diagnosis, she began treatments at the UI Stead Family Children's Hospital.
 
Through a connection in the athletics department, Harper was introduced to a few members of the Iowa women's basketball team. After a pick-up of game at the Ronald McDonald House, a visit to practice, and a chance to see the Hawkeyes get a win in Carver-Hawkeye arena, Harper quickly had 11 new best friends.
 
 "We are lifelong Hawkeye fans and season ticket holders for football," said Nolan Stribe, Harper's father. "We've had some connections with the women's staff over the years and they were kind enough to reach out when we needed support here while we spent a lot of nights, weekends, and long days at the hospital."
 
Ten months later, surrounded by her family, doctors, nurses, and her new Hawkeye friends, Harper rang the victory bell in celebration as she completed her last chemo treatment. The Hawkeyes sang songs, danced, and shared gifts with the little girl whose fight and strength has inspired them each and every day.
 
"The last day of chemo is always a big day for our patients… this day is a really big step in their cancer journey," said Jamie Truscott, a second-year pediatric oncology fellow. "Having our sports teams — like the women's basketball team — come in and give support is so important. The process is so physically and emotionally demanding for the patients and their families. For them to know that it is not just themselves, but a whole community fighting for them is vital."
 
With smiles and tears of joy running across their faces, the Hawkeyes took in every second of the celebration. It is a day the team won't soon forget.
 
"It was amazing to be there to support Harper on her last day of chemo," said junior Megan Gustafson. "Harper and her family have given us extra motivation all season long. We loved getting to know them and welcoming them into our Hawkeye family."  
 
While her trips to Iowa City will now be limited to Hawkeye game days, Harper now has 11 friends that will anxiously await her healthy return to Carver-Hawkeye Arena.
 
"This all just shows you that people do really understand that it's not just about one thing; that life is bigger than just basketball," said Nicole Stribe, Harper's mother. "To reach out to a kiddo who is struggling themselves, but finds happiness and some joy in the team itself and can take her mind off of all she is going through – it really means a lot. It really does."
 
After 43 days of chemo and 28 days of radiation, one thing is abundantly clear… cancer messed with the wrong Hawkeye.