Hawk Talk Monthly — May 2018 | 24 Hawkeyes to Watch 2017-18 | Hawkeye Fan Shop — A Black & Gold Store | Fight For Iowa
Editor's Note: The following first appeared in the University of Iowa's Hawk Talk Daily, an e-newsletter that offers a daily look at the Iowa Hawkeyes, delivered free each morning to thousands of fans of the Hawkeyes worldwide. To receive daily news from the Iowa Hawkeyes, sign up HERE.
By MATT WEITZEL
hawkeyesports.com
IOWA CITY, Iowa — Fans who watched the University of Iowa men's tennis team this spring could see improvement and recognize that the program has momentum heading into next season.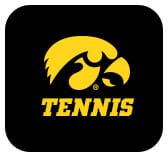 The Hawkeyes won 12 of their 16 matches at home with a lineup comprised of mostly underclassmen. The 16 victories tie for the fourth most in Iowa history. Not only did the team record some exciting home wins, including its first ever win over nationally ranked Oregon, but also its highest-ranked win in program history on the road at No. 14 Dartmouth.
 
Iowa played the fourth toughest schedule in the Big Ten and faced 12 teams that qualified for the 2018 NCAA Tournament. Mellecker Family Head Men's Tennis Coach Ross Wilson says playing such a demanding schedule motivates the student-athletes.
 
"Our guys want to play against the best competition," said Wilson, who completed his fourth season as head coach. "You want to put yourself in the best position to make the NCAA Tournament by giving yourself as many opportunities to beat as many top 50 teams as possible."
 
Three freshmen — Will Davies, Piotr Smietana, and Joe Tyler — made an immediate impact on this year's team.
 
Davies and Smietana played at No. 2 doubles and were ranked as high as No. 40 nationally, thanks in large part to an 11-match winning streak. The duo ultimately won 17 spring matches, which ranks third in Iowa single season history on court two. Smietana and Davies also won pivotal singles matches on courts two and six, respectively, throughout the season.
 
Tyler played doubles with senior Jake Jacoby, winning 14 matches to rank third in school single season history on court three. Tyler also won six singles matches against Big Ten opponents, second-most behind Kareem Allaf.
 
Jonas Larsen and Allaf return next season as upperclassmen after strong play in 2017-18. The duo won 17 matches playing together at No. 1 doubles, rising as high as No. 54 in the national rankings. Allaf won nine straight singles matches to end the season, while Larsen won some key singles matches while playing on court five. Also returning will be junior Jason Kerst, who was honored as the Male Hawkeye of the Year at the annual Golden Herky's.
 
Iowa was on the outside looking in for the 2018 NCAA Tournament, mainly due to its 2-5 record in 4-3 decisions against ranked opponents. Wilson said that having young players who went through the battles will benefit the team moving forward.
 
"Having gone through those close matches, they will be able to deal with their nerves and execute more in the future," Wilson said. "Also, we have a great recruiting class coming in which will help strengthen our lineup."
 
The Hawkeyes will add three players to next year's roster: Oliver Okonkwo, Morgan Lohan, and Nikita Snezhko.
 
"We are excited to get them on campus," said Wilson. "They will fit in well with our team culture."
 
Along with Jacoby, the Hawkeyes lose Josh Silverstein to graduation. Wilson will be looking to Larsen and Davies for leadership next season.
 
"Jonas has always been accountable for his actions," Wilson said. "He competes the way we want our guys to compete and he supports his teammates. Will has those natural leadership qualities. He's vocal in practice and has experience having been on the court at the end of some our biggest matches this season."