Hawk Talk Monthly — May 2018 | VIDEO — Kammy Powell | I-Club Events Page | Sign Up For Season Tickets
Editor's Note: The following first appeared in the University of Iowa's Hawk Talk Daily, an e-newsletter that offers a daily look at the Iowa Hawkeyes, delivered free each morning to thousands of fans of the Hawkeyes worldwide. To receive daily news from the Iowa Hawkeyes, sign up HERE.
By DARREN MILLER
hawkeyesports.com
IOWA CITY, Iowa — Growing up with three football-playing brothers influenced Kammy Powell's future.
Powell joined the University of Iowa football program as head athletic trainer in February, filling a position Russ Haynes held since 2009. (Haynes remains on staff as associate director of athletic training services.)
 
Ironically, Powell earned a bachelor's degree from Aquinas College, an NAIA institution in Grand Rapids, Michigan, that does not sponsor football. Five years later, in 2006, she earned a master's degree in sports management from Northern Illinois. She spent seven years as an athletic trainer for football at Northern Illinois and rejoined head coach Jerry Kill at Minnesota, were she spent 4 ½ more years in a similar capacity. Between those jobs as football athletic trainer, Powell served as a contract athletic trainer for the U.S. Army, where she worked with the 795th Battalion.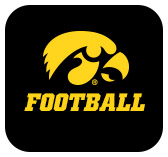 "My undergrad did not have football, so I wasn't exposed to it then," Powell said. "But I grew up with three brothers who played football and (being an athletic trainer for football) was something I wanted to do. I looked for a graduate assistantship where I could work with football and see how I fit in that world. I had the opportunity to do that and I keep coming back to it."
 
Powell continued to work for Minnesota when Tracy Claeys replaced Kill as head coach. But her contract was not renewed when a new staff arrived in Minneapolis in 2017.
 
An opportunity presented itself at Iowa and Powell applied.
 
"Iowa has always been a school of great tradition," Powell said. "From the outside looking in, it is a school people think of with tough players and that hard-nosed Big Ten football. It has been known to have a great coaching staff that has been together a long time and a school that is renowned around the country."
 
The most obvious responsibility of Iowa' athletic training staff is caring for student-athlete injuries.
 
"Especially in football, we have plenty of injuries to deal with," Powell said.
 
Powell makes certain the Hawkeyes are getting exceptional care and she attempts to facilitate growth of the athletic training assistants. Powell is also a liaison between student-athletes and team doctors, keeping them abreast on injury and rehabilitation situations.  
 
"Anything our student-athletes may need is available to them right across the street (at University of Iowa Hospitals and Clinics)," Powell said. "That is very helpful."
 
Because of her hiring timeline, Powell arrived in Iowa City at the end of winter conditioning. April 20 marked the completion on her first spring camp, complete with 12-hour work days beginning at 5 a.m.
 
"So far it has been an easy transition," Powell said. "(Iowa City) has a cool vibe to it and everybody here is nice, friendly, and makes you feel welcome."
 
Powell called her time working with Kill and Claeys "fantastic." She has the same feeling about Iowa head coach Kirk Ferentz and his staff.
 
"Absolutely some of the best I have been fortunate to work with," she said. "It seems more like family with people always helping each other, looking out for each other, and making sure our student-athletes get the best."
 
She is especially grateful to work with football.
 
"In football especially, you get kids from every sort of background all over the country," Powell said. "You see awesome, positive success stories and it's nice getting to know them and what makes them tick.
 
"Seeing somebody through an injury — when it is not usually a great time in their life — and to be able to help them through that and to see them succeed after is one of the perks of the job."
 
Powell is the second female head athletic trainer for football in the Big Ten, joining Sally Nogle at Michigan State.
 
"If you're good at your job, a lot of coaches don't care if you're male or female," Powell said. "(Women) are in the (football) profession more than we used to be when I first started."
 
The Hawkeyes open the 2018 season Sept. 1 against one of Powell's alma maters — Northern Illinois — inside Kinnick Stadium.