Hawkeye Fan Shop — A Black & Gold Store | Hawk Talk Monthly — May 2018 | 24 Hawkeyes to Watch – 2017-18 | Big Ten Championships Notes
Editor's Note: The following first appeared in the University of Iowa's Hawk Talk Daily, an e-newsletter that offers a daily look at the Iowa Hawkeyes, delivered free each morning to thousands of fans of the Hawkeyes worldwide. To receive daily news from the Iowa Hawkeyes, sign up HERE.
By CHRIS BREWER
hawkeyesports.com
IOWA CITY, Iowa — Racing against the top programs in the country is nothing new to the No. 8 University of Iowa rowing team. However, racing with a target on your back? That is what is commonly referred to as 'unchartered waters.'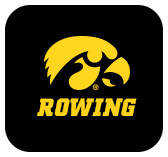 The Hawkeyes take the conference's top I Varsity Eight boat with them to Sunday's Big Ten Championships at Eagle Creek Park in Indianapolis.
 
And it is not happening by accident or coincidence. The Hawkeyes are the top seed in the I Varsity Eight race because they have faced a grueling schedule with glowing results. In the first 14 days of April, Iowa recorded five straight wins over ranked opponents, including three teams — Michigan, Yale, and Princeton — ranked in the top 10.
 
Iowa head coach Andrew Carter believes those results prepare the team both physically and mentally for what will be the most important race to date on the schedule.
 
"Consistently racing top 10 teams, and if not top 10 then ranked teams, battle hardens the squad," Carter said. "There will be nothing shocking about having to face Michigan again, or Ohio State for the first time, or Wisconsin, Indiana, or any of the others. They are ready for anything that can be thrown at them."
 
Carter has seen Iowa improve its conference finish in each of his four-plus years at the helm of the program. In 2014, the Hawkeyes placed seventh. They bumped up one spot in both 2015 and 2016, and last year Iowa tied for fourth with a school-record 106 points. That progress, coupled with this year's success, has turned some Hawkeye boats from the hunter to the hunted.
 
"It is a different situation, but the crew and team in general has handled it well," Carter said. "They keep their head down, and each time they put their head down they try a little bit more, a little bit more, and it's resulted in this progress."
 
Senior Kaelynn Heiberg has embodied that progress. She competed on the second varsity eight boat as a freshman, cracked the first eight as a sophomore, and led Iowa to the NCAA Championships for the first time in 16 years as a junior in 2017.
 
"Going to NCAA for the first time since 2001 was a pretty big step for our program," Heiberg said. "We're hoping to do it again this year and prove to everyone that Iowa has arrived.
 
"We're definitely prepared. We have put in the work so far. In each of our races, we are getting better and better. All that is left to do is execute. The pieces are there and we're excited to see what happens."
 
Ashley Duda, an All-Big Ten performer in 2017, said Iowa needs to simply continue doing what it has been doing and move forward knowing there is not anything on the water Sunday that they have not already seen.
 
"All of our races have been against top notch performers, so to be able to look back and remember how we performed with them, and know that we're capable of performing at that level, if not better, is a confidence booster," Duda said.
 
The first of seven races on Sunday begins at 8 a.m. (CT). The I Varsity Eight competes in the final race at 10 a.m. The Hawkeyes I Varsity Eight is aiming to be the first boat in school history to win a conference championship since the II Varsity Four did it in 2003. BTN will debut the Big Ten Championships on Sunday, May 20 at 10 a.m.