Hawkeye Fan Shop — A Black & Gold Store | Hawk Talk Monthly — May 2018 | 24 Hawkeyes to Watch 2017-18 | Fight For Iowa
Editor's Note: The following first appeared in the University of Iowa's Hawk Talk Daily, an e-newsletter that offers a daily look at the Iowa Hawkeyes, delivered free each morning to thousands of fans of the Hawkeyes worldwide. To receive daily news from the Iowa Hawkeyes, sign up HERE.
By MATT WEITZEL
hawkeyesports.com
IOWA CITY, Iowa — Having the opportunity to serve as team captain on the University of Iowa men's tennis team this past season helped spark a career path for senior Jake Jacoby.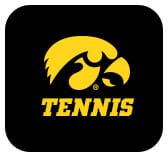 The Little Rock, Arkansas, native loved the team aspect and competitiveness of college tennis so much that he has decided to pursue a coaching career, beginning as an assistant coach at the University of North Carolina at Charlotte.
 
"Playing college tennis has been the best time of my life and the only way to not exactly leave college tennis is to coach it after your eligibility is done," said Jacoby.
 
Jacoby credits being a better person, a student of the game, and instilling toughness to Mellecker Family Head Men's Tennis Coach Ross Wilson.
 
"The high level of tennis that I have been able to play against at a Power 5 level is like nothing else," Jacoby said. "I feel completely prepared to take on the challenges of shifting from player to coach at this level. It will be tough to see things and act as a coach rather than a player, but playing at Iowa has raised my tennis, competitiveness, and maturity levels to the point where I am confident in my abilities as a coach going forward."
 
Wilson said Jacoby was a player who has always been able to make adjustments to his game, which will be helpful as he transitions into a coaching role.
 
"Guys like Jake, who really have to work for it, see the game from different angles, and develop their skills over time, are able to understand tennis and understand what it takes to be good," said Wilson. "He has asked a lot of questions about recruiting, coaching, and running a team this past year. He's eager to become part of a program and get out there on the court and see what he can do."
 
In addition to speaking with Wilson, Jacoby has spoken at lengths with Iowa assistant coach Matt Hagan about the challenges, landscape, and idea of college coaching.
 
"Ross gave me great perspective into how small of a world this business is and how making connections with the right people, while maintaining your competitive edge, will get you far at a fast pace," said Jacoby. "Matt helped me gain an understanding of what it's like to move from player/teammate to being an assistant coach at a young age. Both Ross and Matt provided me with great support and perspectives to help ready me for what lies ahead in college coaching."
 
During his Hawkeye career Jacoby amassed 128 combined singles and doubles victories, which ranks fifth most in program history. Wilson said the Iowa tennis program is in a much better position in 2018 thanks in large part to Jacoby's contributions the last four years.
 
"Jake saw the vision of a young coach who wanted to help build a program and blaze a path," Wilson said. "He knew it wasn't going to be easy, but he was ready to take on the challenge and put in the work to help the team any way he could. That says a lot about his personality and character. He has a chance to be a really good coach."