Hawk Talk Monthly — June | Single Game Football Tickets | 24 Hawkeyes to Watch – 2017-18 | I-Club Events Page | Apple App | Sign Up For Season Tickets | Android App
Editor's Note: The University of Iowa Athletics Department, in conjunction with Coca-Cola, will produce exclusive video highlights of the top 10 Iowa football games over the past 20 seasons, as voted on by Hawkeye fans. Hawkeye fans will vote each week between two game options, with the winning game each week advancing as a top 10 moment. Beginning Aug. 13, the weekly countdown of the Top 10 games will begin, with Coca-Cola releasing 16 ounce cans across the Hawkeye State.  Fans will be able to view video highlights of each moment by scanning the Tigerhawk on the cans with the Hawkeye Sports App, via the new augmented reality feature coming to the Hawkeye Sports App later this summer. The release of the greatest moment of the past 20 years is scheduled for Monday, Oct. 8.
Fans can download the Hawkeye Sports App, free of charge, in the Apple App or Google Play stores.
 
Questions concerning the purchase of 2018 football tickets, including general public, University of Iowa faculty/staff and University of Iowa student season tickets by current students, should be directed to the University of Iowa Athletics Ticket Office. The office is open weekdays from 9 a.m. to 4 p.m. The office telephone number is 1-800-IA-HAWKS. Information is also available HERE.
 
 
By RICK BROWN
hawkeyesports.com
 
IOWA CITY, Iowa — Two football games, both decided on the final play. One by a foot, the other by a hand.
 
Marshall Koehn's 57-yard field goal tied a Kinnick Stadium record and gave the University of Iowa a 27-24 victory over Pittsburgh on Sept. 19, 2015.
 
And safety Sean Considine tipped away Wisconsin quarterback John Stocco's pass in the end zone to give the No. 17 Hawkeyes a 27-21 victory at Camp Randall Stadium on Nov. 22, 2003.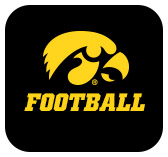 Koehn had struggled with confidence and consistency heading into that 2015 season. Nate Kaeding, an all-American and a Lou Groza Award winner during his Hawkeye career from 2000-03, became a mentor to Koehn.
 
Kaeding offered a shoulder to cry on when things were tough.
 
"When things aren't going well and you're not making kicks, it's pretty easy to have the spotlight shine on you pretty bright," Kaeding said.
 
Kaeding helped Koehn with his pre-kick routine, as well as his thought process.
 
"Sometimes the stars align and the circumstances are right," Kaeding said. "And you can go out there with one swing of the leg and erase a lot of bad memories and bad kicks. That's certainly what he did."
 
Kinnick Stadium was electric all evening. It started when Brett Greenwood, a former Hawkeye captain who continues his comeback from a brain injury, served as honorary captain and led the team onto the field.
 
All-American cornerback Desmond King had two interceptions. Quarterback C.J. Beathard played one of his best games at Iowa, completing 27 of 40 passes for 258 yards, despite constant pressure from the hard-hitting Panther defense.
 
But Pittsburgh converted on a fourth-and-15 play from the Iowa 27 with 90 ticks remaining, then tied the game, 24-24, on Nate Peterman's 8-yard touchdown pass to Tyler Boyd with 52 seconds to go.
 
Beathard scrambled for gains of 12, seven and eight yards on the last drive. On that final carry, he got out-of-bounds at the Pittsburgh 39 with :02 remaining to give Koehn and his powerful leg one last chance to be the hero.
 
Kaeding sits 60 rows up at Kinnick Stadium, between the 35- and 40-yard lines.
 
"I'm there, and of course the fans around us know I'm there," Kaeding said. "They asked, 'Can he make it?' I said, 'He can boom this thing from 10 yards further back. That's the kind of leg he's got.' And boom, he hammers it through."
 
Boyd, standing near the goal post and poised to return the kick if it came up short, could only look skyward and watch as Koehn's game winner sailed over his head and into Hawkeye history.
 
That kick gave that season significant momentum. Iowa would run through the regular season undefeated.
 
 "If Marshall pulls or pushes that kick, it could have changed the dynamic of the whole season," Kaeding said.
 
If Considine hadn't tipped Stocco's last pass in 2003, the Hawkeyes wouldn't have ended up in the Outback Bowl, finished with 10 victories or been ranked No. 8 in the final Associated Press poll.
 
Iowa trailed in the second quarter, 21-7. But after starting Wisconsin quarterback Jim Sorgi was knocked out of the game on a hit by defensive end Tyler Luebke, the Hawkeyes scored the final 20 points of the game.
 
Considine turned in another big play during the comeback, intercepting a pass by backup quarterback Matt Schabert and returning it 24 yards to the Wisconsin 1. Fred Russell scored on the next play and Iowa was in front, 24-21. Bob Sanders picked of Schabert on the next series and Kaeding's 28-yard field goal made it 27-21.
 
Wisconsin head coach Barry Alvarez changed quarterbacks again, inserting Stocco into the game. Wisconsin took over possession at the Iowa 48 with 3:38 remaining in the game.
 
Later in the drive, Wisconsin called its final time out with :21 remaining and the ball on the Iowa 5. Stocco completed a pass to running back Dwayne Smith, but Jovon Johnson and Sanders wrapped him up for just a one-yard gain.
 
Iowa head coach Kirk Ferentz didn't think the Badgers had time to get another play off, but they hurried to the line of scrimmage and snapped the ball with a second remaining.
Wide receiver Jonathan Orr, flanked left, ran a slant pattern in the end zone, but Considine knocked it away and a raucous Camp Randall Stadium went quiet.
 
"That's why you want to go into places like Camp Randall, Penn State, and Ohio State, because you had an opportunity to silence huge crowds," Considine said. "That's why you play. We were busy celebrating ourselves. But the place went from the loudest stadium I've ever heard to the quietest, real quick."
 
And Considine, who came to Iowa as a walk-on from Bryon, Illinois, had added a special memory to his storybook career. He played on Byron's only state high school title team. He played on two Big Ten title teams at Iowa. And he played on the Baltimore Ravens' 2012 Super Bowl championship team.
 
Considine broke into Iowa's starting lineup in 2003. In the third game that season, he blocked two punts in a 40-21 victory against Iowa State.
 
"That's one of the games I'll always remember as a Hawkeye," Considine said.
 
He fondly remembers Warren Holloway's touchdown catch against LSU on the final play of the 2005 Capital One Bowl, his last game in an Iowa uniform.  But the final play of the 2003 game at Wisconsin is his one shining moment.
 
"Considering the situation, and the environment, that was definitely my favorite play," Considine said.
 
| | |
| --- | --- |
| Week One Winner | 2005 Capital One Bowl |
| Week Two Winner | 2002 Minnesota |
| Week Three Winner | 2004 Wisconsin |
| Week Four Winner | 2003 Michigan |
| Week Five Winner | 2004 Outback Bowl |
| Week Six Winner | 2009 Michigan State |
Vote for Your Favorite Game
Vote for the game you would select as one of the top 10 Hawkeye football games over the past 20 years: