Hawk Talk Monthly — June | Single Game Football Tickets | I-Club Events Page
Editor's Note: The following first appeared in the University of Iowa's Hawk Talk Daily, an e-newsletter that offers a daily look at the Iowa Hawkeyes, delivered free each morning to thousands of fans of the Hawkeyes worldwide. To receive daily news from the Iowa Hawkeyes, sign up HERE.
By JAMES ALLAN
hawkeyesports.com
 
CHICAGO — If Matt Nelson doesn't get an opportunity to advance to the National Football League next season, he is ready to begin his quest of becoming a surgeon.
   
Nelson, a senior defensive lineman at the University of Iowa, developed his passion for medicine in middle school when he saw the effects of Parkinson's disease on his grandfather.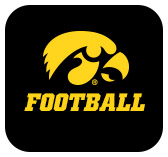 "He was an inspiration for me to go into the medical field," Nelson said Tuesday at the Big Ten Football Media Days at the Chicago Marriott Downtown. "Seeing that do something to a person you love drives you to go into the medical field.  I have always known I wanted to be a doctor of some sort."
 
That led to Nelson studying biology and human physiology at the University of Iowa. His potential path to orthopedics comes from being an athlete and he was introduced to neurosurgery while working in a research lab that does orthopedic and neuro surgeries. 
 
"It's cool to be immersed in that environment," he said.
 
It's Nelson's time on the Hawkeye defensive line, where he has played 39 career games over the past three seasons, that has provided him with an up-close and personal perspective. The daily battles in the trenches have made Nelson a frequent visitor to the operating room at the University of Iowa Hospitals and Clinics.
 
He has parlayed those surgeries into learning experiences.
 
"I had a knee scope done and I asked Dr. (Brian) Wolf if I could stay awake and watch the surgery," said Nelson.
 
Although the unique request was denied, it didn't stop Nelson from studying and asking more questions. He would quiz doctors as to what they were looking at with his MRIs and he watched "game tape" of his procedure.
 
"It's not that exciting, it's a zoomed-in view of my knee," said Nelson. "I have watched hip surgeries on YouTube. It's interesting to me."
 
During his final summer before his senior season, the three-time Academic All-Big Ten selection was immersed in his studies, as he prepared to take the Medical College Admission Test in June.  He's in the process of filling out medical school applications.
 
"It was a little stressful (balancing the academic and athletic workload)," said Nelson. "It is a lot of late nights and early mornings with football, but I make it work."
 
Before his focus turns completely to becoming a doctor, Nelson will be one of the veterans on a deep Iowa defensive line. It will be his second season on the inside after playing two seasons at defensive end.  Last season, Nelson had 23 tackles, two tackles for loss, and one sack in 13 games, helping the Hawkeyes to an 8-5 record and a victory in the New Era Pinstripe Bowl.
 
"Matt accepted his role (as a defensive tackle) and did a great job in the way he progressed last year," said senior defensive end Parker Hesse. "He became a force inside and I am excited to see how he's going to help this football team this season."
 
After sitting out spring ball because of injury, Nelson is looking forward to having a healthy, productive final season.
 
"This is probably the best I have felt in a few years," he said. "I feel good going into camp."
 
As for the future, what happens if Nelson is accepted to a medical school of choice and an NFL opportunity presents itself?
 
"That is going to be a decision I would have to make if it comes around," he said. "I don't have to know about med school until next spring, about the same time as Iowa's Pro Day.  I will I have to sit down and weigh all the options."
 
Iowa opens fall camp Aug. 3, holding its first practice at 6:50 p.m. (CT).