Hawkeye Fan Shop — A Black & Gold Store | 24 Hawkeyes to Watch 2018-19
By JAMES ALLAN
hawkeyesports.com
IOWA CITY, Iowa — Brie Orr is primed for a big sophomore season with the University of Iowa volleyball program after learning on the job as a freshman in 2017.
 
The Eagen, Minnesota, native was thrown into the fire as the Hawkeyes' lone setter, but she produced.  Orr paced the team with 1,201 assists, averaging 10.44 per set, was second with 43 service aces, and third in digs with 238.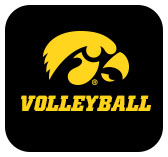 "Last year, it was learn as you go," said Orr, who started all 33 matches. "I would pick up on a skill and I had to apply it right away.  This year I am more comfortable and I have more confidence because of last year.  It's making learning new skills easier; it's a good platform for this year."
 
Orr had three matches with 50 or more or more assists last season for an Iowa team that won 18 matches and was on the verge of making the NCAA Tournament.  Iowa's 18 victories were the second-most for the program since 1994.
 
With her the experience and improved confidence, Orr expects to give more in 2018 in terms of leadership.
 
"I can be more of a vocal leader this year for everyone," said Orr. "I don't have to sit back, set the ball and wait. I can take action with every play.
 
"It's important for me to display that confidence. If I don't, it can almost drain the team because I touch the ball every play.  A huge part of my job is to give the hitters confidence and having the passers know that I am going to take care of the ball."
 
Iowa head coach Bond Shymansky says there was pressure on Orr at various times throughout the 2017 season because she was the team's only setter.  This season, freshman Courtney Buzzerio has joined the team to give the Hawkeyes valuable depth.
 
"Courtney is pushing Brie for starting time, and that has allowed Brie to blossom," said Shymansky. "She has figured out what she's greatest at, and that's team leadership, and that's a positive dynamic. 
 
"Brie is distributing the ball well and I have watched her play better this preseason than I have seen her play in her entire career here. We're excited about what Brie is doing."
 
Orr is using the competition with Buzzerio to her benefit. 
 
"We get to learn from each other every day," said Orr. "When we make mistakes, we learn from them and that will eventually make us better."
 
Iowa opens the 2018 season Saturday at the LUV Invitational, facing SMU and Lipscomb.  The Hawkeyes round out the weekend Sunday at Belmont.