Hawkeye Fan Shop — A Black & Gold Store | 24 Hawkeyes to Watch 2018-19 | Week 2 Notes
THE MATCH-UP
The University of Iowa soccer team will travel to Minneapolis to face No. 22 Washington State in a neutral-site matchup Friday at 4 p.m. (CT) at Elizabeth Lyle Robbie Stadium. Iowa will be  home Sunday, hosting Indiana State at 1 p.m. (CT) at the Iowa Soccer Complex. Admission is free.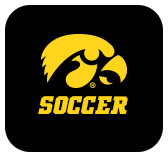 WATCH/FOLLOW LIVE
• Both games will be streamed live on BTN Plus on BTN2GO, a paid subscription service.
• Live stats for both contests will be available on hawkeyesports.com by visiting the Iowa soccer schedule page.
• Fans can follow the Iowa soccer program on Twitter (@HawkeyeSoccer) for live game updates.
LAST TIME OUT
• Iowa opened the season with a scoreless draw in double overtime against Missouri on August 17. 
• The Hawkeyes bested Creighton, 2-0, on August 19 for their first victory of the season.
• Junior Natalie Winters converted a penalty kick for her first goal of the season (and the game-winning goal), while freshman Riley Whitaker scored her first collegiate goal.
SCOUTING NO. 22 WASHINGTON STATE
• Washington State is 2-0-0 to open the 2018 season. The Cougars defeated Seattle, 3-1, on August 17 and Grand Canyon in overtime, 1-0, on August 19.
• Morgan Weaver led the Cougars last season with six goals. She has two this season.
• Head coach Todd Shulenberger is in his fifth season as the Cougars' head coach.
• WAZZU was picked to finish seventh in the Pac-12 Women's Soccer Preseason Coaches Poll.
SCOUTING INDIANA STATE
• Indiana State is 0-1-1 through two games, losing to Northern Kentucky, 3-0, on August 17 and tying Purdue Fort Wayne, 0-0, on August 19.
• Julie Hanley is in her third season as head coach at Indiana State after spending  four seasons at Iowa as an assistant coach.  Five current Hawkeyes — Kaleigh Haus, Morgan Kemerling, Jenna Kentgen, Karsen Rauch, and Rose Ripslinger — played for Hanley during her final season in 2015.
THE SERIES
• This will be Iowa's first meeting all-time against Washington State and Indiana State. It is the second time in three seasons the Hawkeyes have played a PAC-12 foe.  Iowa dropped a 3-1 decision at Colorado during the 2016 season.
GRAVES EARNS WEEKLY HONORS
• Junior goalkeeper Claire Graves earned the inaugural Big Ten Goalkeeper of the Week honor Aug. 21 for her play against Missouri and Crieghton
• The junior posted two shutouts, running her career total to 13 shutouts — the third-most in program history.
• Graves made six saves against Missouri and five saves against Creighton. Her 11 saves are second in the Big Ten.
GOING THE DISTANCE
• Two Hawkeyes — Hannah Drkulec and Sara Wheaton — played the full 110 minutes against Missouri, while Graves and Morgan Kemerling played the full 200 minutes last weekend.  
• Kemerling has played 90 or more minutes in 18 of Iowa's last 21 games.
HAWKEYE NEWCOMERS EARLY IMPACT
• Seven Hawkeyes — Bianca Acuario, Skylar Alward, Riley Whitaker, Hailey Rydberg, Sara Wheaton, and Olivia Hellweg — made their first career starts this past weekend.
WINTERS ON THE OFFENSIVE
• Junior Natalie Winters has four shots on goal on nine shots — second-most in the Big Ten — through two games. The Plymouth, Michigan, native scored her first goal of the season against Creighton, converting a penalty kick early in the second half.  It was her fifth career goal.
ON THE MEND
The Hawkeyes were without their top two returning goal scorers — juniors Devin Burns and Olivia Fiegel — during the opening weekend of the 2018 season.  
• Burns is sidelined after suffering a meniscus injury during the preseason, while Fiegel is working her way back from a leg injury.  Both players are expected back in the coming weeks.
RETURNEES BY NUMBERS
• Offensively, the Hawkeyes return 80 percent (25 of 31) of the team's goals from 2017 and 68 percent (21 of 31) of the team's assists. Iowa has two starting defenders returning, Morgan Kemerling and Leah Moss.
B1G PRESEASON HONORS
• Three Hawkeyes — juniors Devin Burns, Kaleigh Haus, and Natalie Winters — were named to the Big Ten Preseason Honors List. Burns led the team with nine goals and 23 points, Haus finished third on the team with five goals and 14 points, and Winters started all 19 games and has started all 38 games of her collegiate career.
• Iowa was picked to finish 10th in the Big Ten in the preseason coaches' poll.
BURNS X 2 X 2
For the third straight season there will be a Burns tandem on the Iowa soccer roster.  It was Corey and Devin Burns in 2016 and 2017.  Corey is now playing professionally in  Denmark, but the sister duo continues with freshman Riley Burns joining the Hawkeyes' roster and her sister Devin.
FORWARD BREAKDOWN
The Hawkeyes will rely on veteran leadership with junior forwards Devin Burns, Kaleigh Haus, and Olivia Fiegel, who combined for 20 of the team's 31 goals last season.
TEAM CAPTAINS
Senior Morgan Kemerling and redshirt junior Kaleigh Haus are Iowa's team captains for the 2018 season.
CHALLENGING SLATE
• Iowa will play five contests against NCAA Tournament teams in 2018.
• The Hawkeyes will face three opponents who are currently ranked in the United Soccer Coaches top-25 — Penn State (3), Northwestern (19), and Washington State (22).Four more Iowa opponents are receiving votes.
COACHING STAFF CHANGES
The Hawkeyes have added Katelyn Longino as an assistant coach and Drago Ceranic as a volunteer assistant coach to the 2018 coaching staff. Longino joins Iowa following coaching stints at Valparaiso, Xavier, and Columbus State. Ceranic coached with the Cedar River Soccer Association since 2009 and has been a part of Iowa's Olympic Development Program since 2016.
ON THE HORIZON
Iowa will host the four-team Hawkeye Invitational next weekend at the Iowa Soccer Complex.  The Hawkeyes will face Central Michigan on Aug. 31 and VCU on Sept. 2.