Hawkeye Fan Shop — A Black & Gold Store | 24 Hawkeyes to Watch 2017-18 | Photo Gallery 2 | Photo Gallery | Men Results (PDF) | Women Results (PDF)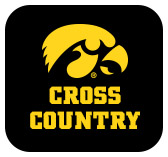 Seniors Shine at Hawkeye Invitational
IOWA CITY, Iowa — University of Iowa senior Andrea Shine won the 2018 Hawkeye Invitational Friday night, finishing the 4,000-meter race in 14:07.5, nearly 14 seconds ahead of the competition.
"The conditions weren't the greatest," Shine said. "The grass is still kind of long, because it's been raining so much. I just wanted to execute a good race and not worry about the time, so I couldn't ask for much better."
 
Shine led the Hawkeyes to a second place finish. Iowa put four newcomers, including Megan Schott, Anna Hostettler, Grace McCabe and Jordan Winke, in scoring position. Schott closed the race in 14:23.7 to take fourth, overall. The final three scorers finished in the top 25.  
"I was really pleased with our newcomers on the women's side, because we have a lot of new faces," head coach Randy Hasenbank said. "It's a pretty talented group. They did well today. I wasn't that surprised because that's what we've been building for, as far as every year getting that roster a little bit better and a little bit deeper. We'll just keep bringing them along, get them a little more seasoned each week."
 
On the men's side, seniors Daniel Soto and Ian Eklin both crossed the finish in 18:44.3, helping the Hawkeyes place second as a team in the 6,000-meter race. Freshman Spencer Smith was on the veterans' tails, finishing in 18:49.3, two spots behind.
 
"I think the guys did a better job at keeping their composure the first thousand meters," Hasenbank said. "Last year, we were all strung out within a thousand meters, so we didn't really get what we needed out of it. Today, they ran smart through the early half of the race and competed well on the back. I'm really pleased with Spencer [Smith]. He did really well. Soto and Eklin did exactly what I expected of them."
 
The  Hawkeyes return to competition to at the Woody Greeno Invite on Sept. 15 in Lincoln, Neb.