24 Hawkeyes to Watch 2018-19 | Single Game Football Tickets | I-Club Events Page
By DARREN MILLER
hawkeyesports.com
IOWA CITY, Iowa — Before Saturday, the busiest day of Jack Hockaday's college football career was the result of happenstance.
 
In the 2016 season opener against Miami (Ohio), University of Iowa starting linebacker Josey Jewell was disqualified for targeting. Hockaday came on in relief, compiled a career-high six tackles, and the Hawkeyes won the game, 45-21.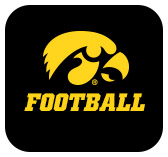 Hockaday had an eventful opener this season as well, and you could say it, too, was a bit unexpected. He replaced junior Amani Jones at middle linebacker in the first quarter, tied for third on the team with five tackles, and the Hawkeyes were again victorious, this time 33-7 over Northern Illinois.
 
Did Hockaday expect to play so many snaps?
 
"No, not at all," he said. "All you have to do as a backup is be ready for every situation. You never know when your number is going to be called and when it is, you have to be ready."
 
The lone solo stop for Hockaday was for a 1-yard loss on a pass completion to Northern Illinois wide receiver Rodney Hall.
 
After giving up 146 yards in the first half, Iowa's defense dominated the final 30 minutes: Northern Illinois had just one offensive yard through the first 22 1/2-minutes of the second half. Iowa's defense allowed a total of 65 yards in the second half with 75 coming on the final scoring drive by Northern Illinois.
 
Hockaday assisted with that dominance.  
 
"I felt prepared. There were mistakes I need to clean up, I gave it all I had," Hockaday said. "I played hard. The work prior to the game, the studying, is what helps make those calls."
 
Many of the 67,510 at Kinnick Stadium on Saturday were keeping an eye on Iowa's linebackers. This was the first game for the Hawkeyes after replacing three veterans who combined for 122 career starts. For this opener, Iowa's starters were Jones (middle), junior Kristian Welch (Will), and sophomore Nick Niemann (outside). None had started a collegiate game.
 
"Game action is always different than practice," Iowa head coach Kirk Ferentz said. "When you have so many young players playing and guys in first-time situations, you learn more about the guys on the game field.
 
"Jack stepped in and did a really nice job; that was great to see."
 
During a 12-game regular season, depth is a plus at every position. Jones, who was second on the team with six tackles, remains in the mix for substantial playing time.
 
"We think Amani is a really good football player and he'll be back at it," Ferentz said.
 
Hockaday missed the season opener a year ago because he was rehabbing a dislocated elbow. He played seven games after playing in eight as a freshman and 13 as a sophomore. Even with limited overall game experience, he is still one of the most experienced players in the linebacker room. That showed against Northern Illinois.
 
"He came out pretty even-keeled, consistent, calm," Niemann said. "He made the plays and made the checks. You could tell he is an older guy who has been around. That helped."
 
It's a safe assumption that no Hawkeye played a perfect game Saturday, including Hockaday. He knows it.
 
"There will be things to clean up, but the main thing is we got the win," Hockaday said. "So, no complaints there."
 
Iowa remains home Sept. 8 against Iowa State in the Iowa Corn Cy-Hawk Series. Kickoff is set for 4 p.m. (CT).