24 Hawkeyes to Watch 2018-19 | I-Club Events Page | Single Game Football Tickets
By HANNAH OSSMAN
hawkeyesports.com
IOWA CITY, Iowa — New kid on the block, Derrick Foster, has been coaching the Hawkeyes' running backs for eight months, and is in awe of the atmosphere that surrounds Iowa football.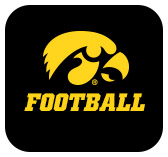 "It has been awesome. Being around this whole coaching staff and this program has been a tremendous experience for me," Foster said. "I think the guys in our office make that a lot easier, and the community.
 
"This place holds a lot of tradition. It's very special. Me and my wife, we appreciate being here."
 
The Goshen, Alabama, native came to Iowa from Samford University in Birmingham, where he did a two-year stint working with the running backs. His resume includes coaching running backs and wide receivers at Tennessee, Northwestern State, and Valdosta State over the past seven years.
 
On the field as an athlete, Foster played for Southwest Baptist College in Missouri as a wide receiver.
 
His experience as a former student-athlete and as an assistant coach adds to the expectations from the program and especially head coach Kirk Ferentz. It is pertinent to the coaching staff and student-athletes, as well as the support staff, to make each aspect of the team better each day, on and off the field.
 
"We talk about it day-in-and-day-out with (head) coach (Kirk) Ferentz," Foster said. "It's making sure we come in every day to improve on a consistent basis. We talk about it. We have to give great effort. We have to make sure we stay focused, are detailed in our work, and controlling what we do on our end."
 
Saturday's 33-7 win over Northern Illinois University was Foster's first game day experience with the Hawkeyes.
 
"The first game was an emotional rollercoaster for me," he said. "There were some high moments there that I was impressed with, and then I hit a wall where I was emotional because it was the first time walking into Kinnick with it being that full. I appreciated that moment that I took.
 
"The best part about being a Hawkeye is on Saturdays inside of Kinnick. It's special."
 
The Hawkeyes continue their four-game stretch at home, hosting Iowa State on Saturday in the annual Iowa Corn Cy-Hawk series. The game will be televised on Fox.