24 Hawkeyes to Watch 2018-19 | I-Club Events Page
By JAMES ALLAN
hawkeyesports.com
IOWA CITY, Iowa — The University of Iowa football team's defense is looking for redemption in Saturday's Iowa Corn Cy-Hawk Series matchup against Iowa State.
 
A season ago, the Hawkeyes left Jack Trice Stadium with a 44-41 overtime victory thanks to nearly 500-yards of offense.  The Iowa offense picked up the slack for a Hawkeye defense that surrendered 467 yards and 38 points in regulation — the most all-time in the series.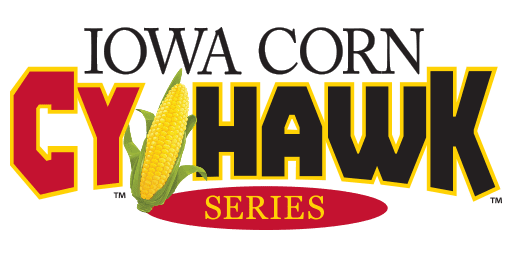 "We gave up more points and big plays than we wanted to," said senior Jake Gervase. "Fortunately, our offense picked us up. We're excited for the opportunity to play a better defensive game this year.  They have a challenging offense, and we're excited for the opportunity."
 
The Cyclones return 11 players that started at least four games from an eight-win team.  Iowa State averaged 29.2 points a season ago and ranked 30th nationally, averaging 272.9 passing yards in 2017.
 
Sixth-year senior Kyle Kempt threw for 1,787 yards and 15 touchdowns in nine games last season, but he didn't take over under center until week five at No. 3 Oklahoma.
 
"He's patient," said junior Amani Hooker. "He understands the offense and knows where he wants to go and deliver the ball.  He also has a receiver that will go up and get it."
 
That receiver — Hakeem Butler — poses challenges. Iowa's starting defensive backs stand 6-foot-1, 6-0, 6-1, and 6-1.  Butler, who had 47 catches for 697 yards and seven touchdowns, is 6-6.
 
"It's a real advantage," said Iowa head coach Kirk Ferentz. "It's one thing to have a taller receiver, but when you have a tall receiver that's a good player, that's more important.  That's certainly the case with Butler."
 
Iowa State's biggest weapon is in the backfield with running back David Montgomery, who ran for 112 yards and a touchdown against Iowa last season.  For the year, Montgomery led the nation forcing 109 missed tackles and finished the year with 1,146 yards and 11 touchdowns.
 
"They have an explosive offense and guys that can make plays," said senior Parker Hesse. "We're looking forward to putting a better effort forward and helping our offense more than last year."
 
Iowa's defense put a good first foot forward in its season-opening 33-7 victory over Northern Illinois. The Hawkeyes limited the Huskies to 211 yards of total offense with 64 of those yards coming against Iowa's No. 2 defense on NIU's final drive of the game.
 
"If we can repeat what we did this past weekend, that would be good for us," said Hooker. "We did a good job, but there are things that can be fixed.  We can do better with our communication and in the back end.  We have to come out, keep swarming to the ball, and not give up big plays."
 
Hesse says there will be a little more juice to the game with it being a rivalry contest that includes playing for the first trophy game of the season. 
 
"Trophy games are the epitome of playing football," said Hesse. "You train year-round, practice all week for that one moment after the game to say we did it. All that time, the days and weeks add up for that moment.
 
"In trophy games you get to express that in going and hoisting a trophy.  That's what makes it special."
 
For the Hawkeyes to extend their winning streak to four games in the series — which would be the longest stretch since winning 15 consecutive contests from 1983-97 — it will be about doing the little things to slow down the Cyclones.
 
"It's going to come down to playing team defense and paying attention to the details," said Hesse. "There were times where we didn't do that last year.  We were fortunate to come away with the win.  This year we have to be on top of it each and every play.
 
"We're looking to go out and play our best game and come away with a win.  That's what we're focused on and that's what we working toward."
 
Saturday's game will kick off at 4:05 p.m. (CT), and it will be televised on FOX with Tim Brando, Spencer Tillman, and Holly Sonders on the call.  The game is sold out.