Hawkeye Fan Shop — A Black & Gold Store | Hawk Talk Monthly — September | 24 Hawkeyes to Watch – 2017-18
By ASHLYNN BAUER
hawkeyesports.com
IOWA CITY, Iowa – The University of Iowa's newest head coach, Renee Gillispie, is striving to bring a new legacy to a storied softball program.
 
It may seem new to the student-athletes, but it is a legacy that isn't new to Iowa softball. It is a legacy that former head coach Gayle Blevins formed over 22 years, from 1988-2010. Where her record was 948-442-2 with four appearances in the Women's College World Series.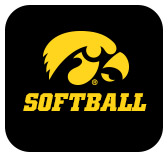 That is exactly where Gillispie wants to be.
 
"It took (Blevins) about three years to turn that program around," Gillispie said "By then, I was getting into coaching. I was able to watch her and emulate her, and wanted to be what she was.
 
"I wanted a little wristband that would say 'What Would Gayle Do?' I watched the way she handled umpires because she was always professional and respectful the way she handled them."
 
Gillispie knows there is a lot that goes into building a program, especially one that can sustain success. That's what Gillispie wants to model her program after.
 
"She had the culture of the team," Gillispie said. "She had them playing with heart every time they took the field, and she was focused on Iowa kids at the time. Being an Iowa player growing up, you always wanted to be a part of that."
 
Now Gillispie is at the front and center. She knows how Blevins handled her team and culture was the reason for their sustained success.
 
"It's exciting to take on that legacy," she said.
 
Building that legacy is not going to come over night, but Gillispie and the Hawkeyes are ready to take it one step at a time together.
 
"It's easy to have a team together, when the individuals are hungry to be good for themselves," Gillispie said. "When you want the team to be good and you're pushing each other and helping each other step up to make each other stronger, that's what being a team is all about."
 
The emphasis of the team is one part of the culture that Gillispie is establishing.  After a handful of practices, the needle shifting.  
 
"Anything we do in practice or a game, is for the person next to us," said freshman Sydney Owens. "That is what we talk about and that is what we want our team to be like. It's selfless softball, and we are trying to push each other to get better together."
 
Another dynamic Gillispie wants to bring into the culture is leadership.
 
"Building leadership is one of the goals," Gillispie said "That's what we're trying to accomplish is having leadership that is teaching what we are teaching as coaches. Eventually, it is coming from the student-athletes."
 
For the returning Hawkeyes, it didn't take long for them to buy into the program's new vision.
 
"Since she arrived, you can see the passion she has for the game," said junior Allison Doocy. "She didn't know us, but she was showing us how much she cared about us. I feel like we've already grown a lot as a program."
 
The Hawkeyes will open their fall season Sept. 14, hosting Kirkwood Community College at 5 p.m. (CT) at Pearl Field.  Admission is free.