24 Hawkeyes to Watch 2018-19 | Hawk Talk Monthly — September | Hawkeye Fan Shop — A Black & Gold Store
Each Monday throughout the 2018 regular season, a student-athlete from the University of Iowa volleyball team will be featured in a Q&A.
 
IOWA CITY, Iowa — Cedar Rapids native Maddie Slagle has played in every match during her freshman season with starts in games against South Dakota State and Drake. The defensive specialist has racked up 32 digs and three service aces in 2018.
What would people be surprised to know about you?
"I originally wasn't going to take volleyball seriously. I only did softball first, but one night my friend asked if I wanted to go to tryouts with her and that is when I started playing."
What are you hoping to bring to the program?
"I hope to make us a better team and push to the NCAA tournament."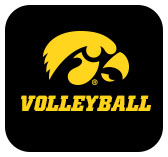 Being in a position group that has depth, how does that push you to the next level?
"It pushes me to the next level because I know I need to do the best I can and become a better teammate to help the team overall."
If you could play another sport, what would it be?
"If I played another sport I would play tennis"
Who would play you in a movie?
"Christina Aguilera"
What is your favorite store to shop at?
"American Eagle"
Who is your celebrity crush?
"Channing Tatum"
If you could have witnessed one event or moment in history, what would it be?
"I would have liked to see the moon landing."
What is your favorite dessert?
"Ice cream"
If could play another position what would it be?
"Outside hitter"
What is your dream vacation?
"Going to Greece."