I-Club Events Page | Hawk Talk Monthly — September | Single Game Football Tickets | 24 Hawkeyes to Watch 2018-19 | Ferentz News Conference Transcript (PDF)
By JAMES ALLAN
hawkeyesports.com
IOWA CITY, Iowa — It's a matter of time before the University of Iowa offense breaks free from its slow start to the 2018 season.
 
The Hawkeyes are 2-0 following season-opening victories over Northern Illinois and Iowa State, but the offense has been stuck in neutral.  Iowa is averaging 311.5 yards per game, ranking 112th nationally.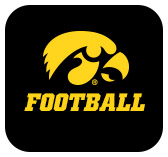 "We want to go out and play well, and we know we can," said senior wide receiver Nick Easley, who has one catch for 15 yards in two games. "What is most frustrating is we know we're capable, we just have to go out and do it."
 
The Hawkeyes took a step forward in the fourth quarter of their Iowa Corn Cy-Hawk Series victory over Iowa State.  Clinging to a 6-3 lead, Iowa put together a 13-play, 83-yard touchdown drive to put the game away.   The play total, yards, and 6 1/2-minute time of possession were season-bests.
 
"It gave us confidence, doing that against a top-level defense," said junior quarterback Nate Stanley. "Heading into this week we are trying to carry that over to practice and into the game Saturday."
 
Sophomore offensive tackle Tristan Wirfs believes the key to an offensive breakthrough is starting fast, something that has eluded the Hawkeyes during the first two weeks.  Iowa scored three points and had 148 yards in the first half against Northern Illinois and mustered a field goal and 73 yards in the first 30 minutes against Iowa State.
 
"We need to come out of the gate ready to go," said Wirfs. "We have been starting a little slow and that's how it was last year.
 
"We always say, get that first first down, that gets the chains rolling. We need to start fast and get the ball rolling with a couple completions and a couple good runs.  That builds momentum and gets everyone's energy up."
 
The Hawkeyes' run game has been solid in the first two weeks, averaging 157 yards with sophomore Toren Young accounting for 76 yards per contest.  The Hawkeyes' passing attack has been up-and-down as Stanley has completed 52.9 percent (26-of-51) of his attempts for 274 yards and one touchdown.
 
"We have to get into a rhythm," said Easley. "We have to get things going early and hit on plays we have left a little short.  Maybe connecting on a few balls will give us confidence.
 
"Nate is perfectly capable. He has all the talent in the world and I have all the confidence in him."
 
Iowa hosts Northern Iowa on Saturday inside Kinnick Stadium beginning at 6:30 p.m. (CT).  The Panthers are 0-1 after falling, 26-23, at Montana on Sept. 1 in their season opener.
 
"We have to get clicking," said Easley. "There are things that we are close on, but haven't hit.  I know we have the guys to do it and a good plan in place."
 
Saturday's game will be televised on BTN with Chris Vosters and Chuck Long on the call.  The game, which is sold out, will feature a halftime performance by Pat Green, who will sing "Wave on Wave" at the conclusion of the first quarter alongside 50 Iowa and Northern Iowa band members.