IOWA CITY, Iowa – – Marvin Sims, Jr., son of the late Marvin Sims, will serve as honorary captain as Iowa hosts Northern Iowa at Kinnick Stadium (6:40 p.m., BTN) Saturday evening.
 
Sims, Jr. is an Iowa City native and a 1987 graduate of West High School. He earned his bachelor's degree (business) from Iowa in 1992 and has been employed by Procter & Gamble for 30 years.  His family includes his wife, Cammie, daughter Breanna, and son, M. Logan Sims, III.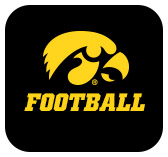 Marvin Sims, Sr. passed away in April 2010, after a battle with cancer. The Hawkeye football team wore a helmet decal in his honor throughout the 2010 season.
 
Sims, Sr. was employed by the University of Iowa for 22 years, working exclusively with student-athletes for the final 16 years. He served as a sports counselor in the Sports Medicine department at University of Iowa Hospitals & Clinics, assisting student-athletes in identifying and working through challenges during their collegiate experience.
 
Sims, Sr. served in the United States Air Force as an air traffic control operator from 1961-67. He later moved to Iowa City and earned both his bachelor's and master's degrees in social work (MSW) from Iowa.
 
Sims, Jr. will accompany the Iowa captains to the center of the field for Saturday's pregame coin toss.  He will also be with the Hawkeyes in the locker room before and after the game.