24 Hawkeyes to Watch 2018-19 | Hawkeye Fan Shop — A Black & Gold Store
By SETH GOODMAN
hawkeyesports.com
IOWA CITY, Iowa — For a 10th straight year, the University of Iowa men's golf team will host the Golfweek Conference Challenge.  The competition will be held at the Cedar Rapids Country Club, Sunday through Tuesday.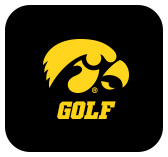 It is the second consecutive year the tournament will be contested in Cedar Rapids — just a 30-minute drive from the Iowa campus. The event features 16 teams from 16 different conferences.
 
"We don't get to play in front of our family and friends often, so to be able to host this event at such a prestigious golf club is a privilege," said Iowa head coach Tyler Stith.
 
"It's a lot of fun playing close to home, it means a lot," said senior Matthew Walker. "Being from Iowa, it is even more special for me than most."
 
There has not been a lack of Hawkeye success in this tournament in previous years. Iowa has finished in the top-10 in the last nine tournaments, including five top-five finishes. Stith and the Hawkeyes look to build on that success this year.
 
"It's an advantage to be able to compete on your home golf course," Stith said. "We almost won last year. I know the guys are looking forward to it. We have played the course a few times and we try to get as familiar as we can with the course."
 
Two of Iowa's top-five finishes came in 2010 and 2015 when the Hawkeyes claimed the team title. One member of that 2015 squad was Walker, who was a freshman at the time. The native of Ottumwa, Iowa, helped Iowa to the team title with a 54-hole score of 222 (+6).
 
"I think this team is better than the 2015 team," said Walker. "I believe we will be contending."
 
"We have a talented team," Stith said. "Talent-wise, we are as good as we have been in years. It has yet to be seen how good we can actually be."
 
Iowa opened the season strong with a third place finish at the Gopher Invitational with a three-round score of 851 (-1). Freshman Gonzalo Leal Montero made his Hawkeye debut, posting a 54-hole score 216 (+3) for his first top-20 finish.
 
The team looks to carry its strong start into its second tournament of the fall.
 
"I feel confident," said Montero. "I'm in good form and playing well."
 
"(The Gopher Invitational) gave the guys a lot of confidence," said Stith. "We went in with a lot of confidence after qualifying, which were some of the lowest scores we have shot in my years as a coach."
 
The Golfweek Conference Challenge tees off Sunday at 9:30 a.m. (CT). The three-day tournament runs through Tuesday and admission is free to the public. Fans can also follow along via live scoring at golfstat.com.