24 Hawkeyes to Watch 2018-19 | Single Game Football Tickets | I-Club Events Page | Hawk Talk Monthly — September | VIDEO — Sunday Conversation
By DARREN MILLER
hawkeyesports.com
IOWA CITY, Iowa — Every football game is meaningful, but there is amplified significance when conference play begins.
 
The University of Iowa, undefeated in three nonconference games for the second consecutive season, opens Big Ten Conference play Sept. 22 against two-time defending West Division champion Wisconsin.
 
"There is a difference when you get into conference play," Iowa head coach Kirk Ferentz said during a Sunday conversation with hawkeyesports.com. "Anybody that is in a conference understands that and appreciates that."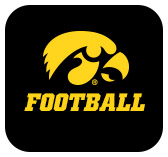 Not only is a quick start in league play at stake Saturday, so is the Heartland Trophy. Wisconsin has won the last two games in the series — 17-9 in 2016 in Kinnick Stadium and 38-14 last season in Madison, Wisconsin.
 
"To play a Kinnick night game is always exciting and we're starting right at the top," Ferentz said. "Wisconsin has played as good of football as anybody in our conference over the last five-10 years on either side of the division. We're playing one of the premiere teams in the league — they come in here very experienced and talented and it will be a great, great challenge for us. Our players are excited about the opportunity, we also know we have a lot of work to do this week to be ready for it."
 
The annual America Needs Farmers Game kicks off at 7:30 p.m. (CT). Iowa is undefeated at 3-0, Wisconsin is 2-1. Both teams have bye weeks Sept. 29.
 
"We came into the season really focused on this four-week block…this team has done a good job of that," Ferentz said. "The guys showed up (Saturday) with a good frame of mind, they worked hard and we did start faster than we have the last couple weeks, which is good to see."
 
During the 38-14 win over Northern Iowa, Ferentz was pleased with 120 yards of total offense by running back Mekhi Sargent, the ball being spread to 10 different receivers, Nick Easley catching 10 passes for 103 yards, and Noah Fant hauling in five passes for 99 yards and touchdown in the first half. Quarterback Nate Stanley was 23-of-28 passing for 309 yards and two touchdowns.
 
"Nate looked a lot more comfortable; I thought he had his best week of practice last week," Ferentz said. "He looked a little more relaxed and made some nice throws. We looked more cohesive as an offensive football team."
 
It was much of the same for Iowa's defense. It limited Northern Iowa to 228 total yards, with nearly half of those coming in the fourth quarter when the Hawkeyes led, 38-0. Iowa forced two turnovers.
 
"They have been aggressive to the ball and we have been doing a good job in the take-away part of things. That is important for sure," Ferentz said.
 
"Making an opponent one-dimensional, I think we have done that well for three weeks now. We have a big challenge this week, but it's good to see our guys play and it starts up front. We are playing aggressively up there, we're playing a lot of guys, and hopefully we can keep that rotation going and keep the guys playing strongly."
 
There is also encouraging news on the injury front. Ferentz said all three offensive starter that missed the Northern Iowa game: Ivory Kelly-Martin, Ihmir Smith-Marsette, and Cole Banwart could return to the lineup.
 
"I think all of those guys realistically have a chance to go on Tuesday, so we'll keep our fingers crossed and hope they can keep progressing the way we anticipate," Ferentz said.