24 Hawkeyes to Watch 2018-19 | Hawk Talk Monthly — September | I-Club Events Page | Single Game Football Tickets
By DARREN MILLER
hawkeyesports.com
IOWA CITY, Iowa — Brian Ferentz is like any other offensive coordinator in the country through four weeks of the season. The need for weekly improvement is still paramount, but after a 3-1 start, he likes what he sees out of a developing corps of wide receivers.
 
Each of the first four games for the University of Iowa has featured an explosive highlight from one of seven Hawkeye wideouts who have receptions.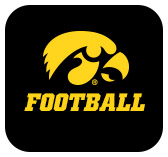 Plays like a 45-yard completion to sophomore Ihmir Smith-Marsette against Iowa State or a 30-yarder to Brandon Smith in the same game. Both catches set up scores during Iowa's 13-3 victory.
 
How about the next week, a 38-14 win over Northern Iowa, when senior Nick Easley hauled in 10 passes for 103 yards and a touchdown and true freshman Tyrone Tracy, Jr., made his debut with a 22-yard reception?
 
Even during a loss Sept. 22, Hawkeye receivers made plays. Iowa took a 17-14 lead with 1:37 left in the third quarter against Wisconsin and the second play of the drive was a 14-yard completion to Smith.   
 
"There were no bigger plays in the game than the in-cut that Brandon caught on a play-action pass when we went down and scored," Ferentz said Wednesday during a news conference in the Stew and LeNore Hansen Football Performance Center. "Basically we were blanketed everywhere else on the field."
 
At a similar point of the season in 2017, Iowa had four wide receivers combine for 35 catches and 371 yards. Easley had 18 receptions, followed by Matt VandeBerg (10), Smith-Marsette (six) and Smith (one). This season, seven Hawkeye wide receivers have 30 catches for 390 yards.
 
"They've done a nice job," Ferentz said. "You look at some of the games that we've played and the biggest plays in the games have come out of the receiving corps."
 
Easley leads the pack once again (thanks to the 10-catch effort against Northern Iowa). He has 12 catches for 132 yards, Smith-Marsette has seven catches for 131 yards, and Smith has five catches for 78 yards. Other Hawkeye wide receivers with receptions are Max Cooper (3-15), Tracy (1-22), Nico Ragaini (1-7), and Kyle Groeneweg (1-5).
 
"I've seen growth and production, but we're going to need more," Ferentz said. "It's kind of like our whole offense. We need to keep getting better because the goal is to win a Big Ten championship."
 
Overall, more than 57 percent of Iowa's offense this season has come through the air. The Hawkeyes average 49.3 more passing yards per game than their opponents. Tight ends T.J. Hockenson and Noah Fant are the top two pass-catchers on the team and the contribution from wide receivers has stretched the field.
 
Iowa does not play this week, but returns to action Oct. 6 against Minnesota. Kickoff is set for 2:30 p.m. (CT) from TCF Bank Stadium in Minneapolis.
 
The Hawkeyes defeated Maryland, 31-15, after their bye week in 2015. This is the third consecutive season Iowa has hit the road after its bye; the Hawkeyes lost at Penn State, 41-14, in 2016 and at Northwestern, 17-10, in overtime, in 2017.