Hawkeye Fan Shop — A Black & Gold Store | Hawk Talk Month – September | 24 Hawkeyes to Watch | Fight For Iowa | Complete Results (PDF)
EAST LANSING, Mich. — The University of Iowa men's swimming and diving team dominated Michigan State, claiming 15-of-16 event wins to post a 193-98 Big Ten Conference victory Friday morning at the McCaffree Pool.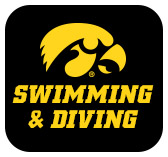 RELAYS WIN
The 200-medley relay consisting of senior Kenneth Mende, sophomore Daniel Swanepoel, senior Michal Brzus, and junior Will Scott clocked a time of 1:30.89 to start the team's winning streak.
 
The Hawkeyes also got a victory in the 400-free relay in the final event of the day. Junior Joe Myhre, senior Matt Kamin, Scott, and junior Michael Tenney won in a time of 3:03.03.
 
NEWCOMERS SHINE
Freshman Mateusz Arndt made a big splash, winning two individual events. Arndt won the 1,000 free in a blistering 9:24.75, finishing 11 seconds ahead of second place Guy Moskovich of Michigan State. He also posted a victory in the 500 free with a time of 4:32.88.
 
Freshman Anze Fers Erzen also had an impressive debut with three individual wins. Erzen won the 100 back (50.86), 200 back (1:49.28), and 200 individual medley (1:53.00).
 
WINS, WINS, WINS
Junior Michael Tenney recorded two victories, touching first in the 200 fly (1:50.94) and 100 fly (49.55). Myhre and Scott also each recorded a victory. Myhre won the 50 free (20.60), while Scott was victorious in the 100 free (45.65).
 
Sophomore diver Jonatan Posligua posted two victories, finishing first off the 1-meter (273.37) and 3-meter (293.55) springboards.
 
Along with being part of the 200-medley relay, Swanepoel made a splash with two individual victories in the 100 breast (57.37) and 200 breast (2:02.99) events.
 
QUOTING HEAD COACH MARC LONG
"It was great to see our men step up, perform, and earn a Big Ten win after putting in such strong training and preparation this month. It was also a special because we were able to see the freshmen race for the first time as Hawkeyes and to see others compete in events they don't normally swim."
 
UP NEXT
The Hawkeyes will host the annual Intrasquad meet Saturday at 10 a.m. (CT) at the Campus Recreation and Wellness Center. Admission is free.