Hawkeye Fan Shop — A Black & Gold Store | Hawk Talk Monthly — October 2018 | Fight For Iowa | 24 Hawkeyes to Watch
Allyssa Fluit is a junior freestyler for the University of Iowa swimming and diving team. Fluit currently sits in the top 10 in the 100 free, 200 free, and 500 free in the Iowa record books.
You have a strong schedule, what goal does the team hope to accomplish?
"Every year we try to make it further up the ranks in the Big Ten. For me personally, after making a final last year, I want to return to that same sport and improve on my performances. Also making it to NCAAs would be great."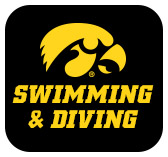 How has the team transitioned from last year to this year?
"We had a shake in leadership this year, but after the meet against Michigan State we stepped up into those roles. We're a smaller team, but we've shown that we are here to prove ourselves and grow together."
What has been your favorite memory surrounding the team?
"Optional Tuesday morning practices have been fun lately. We put in a lot of work but it has paid off for everyone."
What is your best advice for this year's freshmen?
"Have fun because it doesn't get any easier. Take every opportunity you can to be involved because it doesn't last forever."
What is the best advice you were ever given by a coach?
"Ashley Dell tells us to 'go' all the time, and while it seems small it motivates us."
Who has been the most influential person to you since you came to Iowa?
"Hannah Burvill. She swims the same events with me, we get along, but she taught me to see the brighter side of things. She also helped me with the transition from single season swimming to year-round training."
What made you choose Iowa?
"I wanted to stay close to home. My family has always been my No. 1 priority."
If not swimming, what other sport would you participate in?
"Track. I ran in high school and every now and again I miss the oval."
What is your pre-meet ritual?
"I listen to music, but I don't have a specific routine."
What is your favorite place to be on campus?
"The Gerdin Academic Learning Center. After it was rennovated, it has a great atmosphere and I love to study in there."
What is your favorite meal?
"I love pasta. Anything with noodles in it will be a favorite for me."
Who is your favorite person on the team to be around and why?
"It has to be Hannah Burvill again, but also everyone in the distance group. We support each other and push each other all the time through hard practices and motivate each other to get up each day and try hard."
Favorite Movie?
"Age of Adeline."
Favorite Book?
"The Slight Edge."