Hawkeye Fan Shop — A Black & Gold Store | 24 Hawkeyes to Watch 2018-19 | Hawk Talk Monthly — March | I-Club Events Page | Game Notes
By DARREN MILLER
hawkeyesports.com
IOWA CITY, Iowa — Something different happened at the end of Tuesday's practice for the University of Iowa women's basketball team.
 
They cut down a net.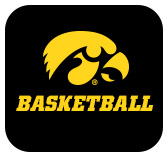 Net-cutting is reserved for winning championships and the second-seeded and 10th-rated Hawkeyes (23-6 overall) have their sights set on climbing a ladder and cutting the net Sunday in Bankers Life Fieldhouse in Indianapolis. That will only happen after winning three games in three days at the Big Ten Tournament.
 
The post-practice exercise is something Iowa head coach Lisa Bluder has done before. Tuesday felt like a good time for the scissors to reappear.
 
"I wanted to get them experiencing what it feels like to be a champion and put that visual in their mind," Bluder said Thursday during a teleconference. "I felt this team has the potential to cut down a net on Sunday. They need to know how to do it and know how good it feels."
 
The last time the Hawkeyes cut down a net after a Big Ten Tournament was in 2001, Bluder's first season as Iowa's head coach. She feels this group can do it again.
 
"Our pressure going into this is that we want to win a championship, it's not to be in the NCAA Tournament," Bluder said. "That can be good, because (those) teams play a little more free."
 
The Hawkeyes tip-off Friday at 5:30 p.m. (CT) against either seventh-seeded Minnesota (20-9) or 10th-seeded Indiana (19-11).
 
"It's kind of weird when you go into a week and you don't know who you're going to play," Bluder said. "It's a complete coin flip as to who is going to win that game."
 
Iowa played both potential opponents on the road this season, defeating Minnesota, 81-63, on Jan. 14 and losing to Indiana, 75-73, on Feb. 21.
 
The Hawkeyes enter the postseason after a road win at Nebraska and a Senior Day victory over Northwestern. In those games, Iowa's defense limited the Cornhuskers and Wildcats to a combined shooting of 36.2 percent from the field and 54 points per game.
 
"I like the way our focus has been and I like our defensive energy," Bluder said. "We challenged them in practice this week: Everybody is 0-0 now, you still have a target on your back being the No. 2 seed. It takes so much focus."
 
Iowa's recipe for success is similar to what it lived by all season: feed off three senior starters, make shots, and limit mistakes. In 19 of 29 games this season, the Hawkeyes shot at least 50 percent from the field. In six of those (including the regular-season finale over Northwestern), they shot better than 61 percent. Eight times Iowa committed 10-or-fewer turnovers in a game.
 
"What we have to hang our hat on is senior experience, that we have been there before, and making shots," Bluder said. "The teams that do well in the tournament are the ones making shots. That sounds like a no-brainer, but making your shots and limiting your mistakes — no silly turnovers, no silly fouls. Those are things you need to avoid to make a run here."
 
Iowa's seniors are the top point-scorers in the lineup, led by center Megan Gustafson with an NCAA-leading 802 points (27.7 points per game). She is followed by forward Hannah Stewart with 330 points (11.4) and guard Tania Davis with 312 (10.8).
 
In their careers, the seniors are 2-3 at the Big Ten Tournament. They hope to add three victories this weekend.
 
"They want to cut down a net," repeated Bluder.
 
That play was executed Tuesday after practice.