Hawkeye Fan Shop — A Black & Gold Store | Hawk Talk Monthly — March | 24 Hawkeyes to Watch 2018-19 | I-Club Events Page | Big Ten Championships | Hawkeye Huddle Information | Match Notes
By DARREN MILLER
hawkeyesports.com
IOWA CITY, Iowa — It has been an interesting, up-and-down senior season for University of Iowa heavyweight Sam Stoll that began with his surprise appearance that lifted the Hawkeyes to a dual victory over Iowa State on Dec. 1.
 
That evening, Iowa trailed the Cyclones, 15-12, when Stoll literally strolled to Mediacom Mat through a cloud of fog. It was his first appearance since an offseason leg injury and he responded with a 5-1 win over Gannon Gremmel in the eighth bout of the dual. Iowa won, 19-18.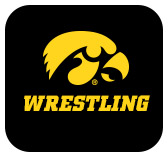 "He realizes he is a fifth-year senior and there is no recourse here," Iowa head coach Tom Brands said.
 
Brands could have used that comment to describe Stoll's bombshell appearance in the Iowa Corn Cy-Hawk Series dual as well as his mindset for the Big Ten Championships on March 9-10 in Minneapolis.
 
"He is like the Energizer bunny," Brands said. "He keeps on going, boom, boom, boom, boom."
 
Stoll reappeared on the mat about a month after the Iowa State win for the Midlands Championships, where he won his first two matches before retiring. He added Big Ten dual wins against Rutgers, Illinois, and Northwestern to improve to 6-0.
 
At that point, Stoll had 60 career victories and he was doing everything possible to back up his national ranking, which was as high as No. 1 in some polls.
 
He then suffered a 3-0 loss to Nebraska's David Jensen in a match Stoll was ridden for four minutes. He responded with back-to-back victories over Yousiff Hemida of Maryland and Fletcher Miller of Indiana.
 
In the final road duals of the season, Stoll lost to Trent Hillger of Wisconsin and Derek White of Oklahoma State by a combined score of 4-1.
 
He enters the postseason with a record of 8-3 with two falls.
 
"It is not how I wanted the season to go to this point, but that's in the past," Stoll said. "I have these next couple weeks to accomplish what I want to accomplish. That is all I'm focused on."
 
Stoll has a career record of 5-4 at the Big Ten Championships, placing eighth as a redshirt freshman and fourth last season. He did not compete in the 2017 postseason.
 
Last season at the NCAA Championships, Stoll earned the Gorriarian Trophy for most falls in the least amount of time and became an All-American by placing fifth.
 
A native of Kasson, Minnesota, Stoll is indifferent about wrestling his final conference tournament in his home state.
 
"It doesn't make a difference if it is up there or in the middle of nowhere," Stoll said. "That's where it is and that's where I'm going to go out and wrestle."
 
The tournament pre-seeds have Stoll in the eighth position in the bracket, meaning a possible quarterfinal clash against Minnesota freshman Gable Steveson, who is 28-0 and ranked No. 1 in the nation.
 
"What is done throughout the season is already done," Stoll said. "They're going to put the names on the board and you have to wrestle who is in front of you. That's all I pay attention to."
 
Brands likes what he sees from Stoll and the entire Hawkeye lineup, calling it "business-minded."
 
"It's not a phony excitement, it's a real business excitement," Brands said. "We're at the second-most important time of the year."
 
Stoll expects to make the most of this business trip to Minneapolis.
 
"It means a lot more knowing I'm not going to be able to strap it up in this Iowa singlet again after these next couple weeks," Stoll said. "There is more emphasis that way and also that I haven't won (a Big Ten title) yet. It's my last shot to go and accomplish the goals I want to accomplish."
 
The first session of the Big Ten Championships begins March 9 at 10 a.m. (CT). BTN will provide live coverage of the finals beginning at 3 p.m. on March 10.