Hawkeye Fan Shop — A Black & Gold Store | Hawk Talk Monthly — March | 24 Hawkeyes to Watch | Fight For Iowa
IOWA CITY, Iowa — The University of Iowa diving team had three student-athletes qualify for the NCAA Championships on day one of the NCAA Zone D Diving Championships in Austin, Texas at the Lee and Joe Jamail Texas Swimming Center.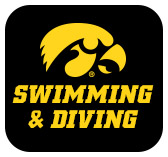 NCAA QUALIFIERS
Senior Will Brenner qualified for the NCAA Championships, finishing with score of 670.95.  He finished with a 338.15 in the trials before posting a 332.80 in the finals to place ninth overall.  It will be Brenner's first NCAA Championships appearance.
 
Sophomore Anton Hoherz recorded a score of 595.40 to place 14th overall.
 
The Hawkeyes got their second and third NCAA qualifiers during the women's 3-meter springboard.  Sophomore Jayah Matthews finished 10th with 664.45 points to advance to the NCAA Championships for a second straight season.  She posted a 344.60 during the finals after having a score of 319.85 in the prelims. 
 
Freshman Sam Tamborski earned her first NCAA Championships appearance with an 11th place finish with 663.45 points.  The Colorado native had a 330.50 in the finals after opening the competition with a 332.95 in the prelims.
 
ADDITONAL FINISHES
Junior Thelma Strandberg posted a score of 291.70 in prelims to place 20th, followed by sophomore Claire Park (43rd, 238.90), senior Jacintha Thomas (49th, 228.55), and freshman Jolynn Harris (52nd, 215.10).
 
HEARING FROM TODD WAIKEL
"I am proud of Will and his efforts. He has been working hard and has had his sights set on this for a while. Seeing him qualify his senior year is a special moment for him and for the Hawkeyes.
"Jayah and Samantha fought hard on both lists. It came right down to the end and their hard work paid off. I am proud of them and all the divers who competed today."
 
UP NEXT
Action will resume tomorrow at the Lee and Joe Jamail Texas Swimming Center with the men's 3-meter and women's 1-meter competitions. Follow live stats at divemeets.com