Hawkeye Fan Shop — A Black & Gold Store | 24 Hawkeyes to Watch 2018-19 | Hawk Talk Monthly — March | I-Club Events Page
By DARREN MILLER
hawkeyesports.com
IOWA CITY, Iowa — It's as simple as it seems.
 
Missouri head women's basketball coach Robin Pingeton said so, as did Iowa head coach Lisa Bluder. Even Hawkeye junior Makenzie Meyer knows why her scoring average in the postseason has risen to 13.2 points per game.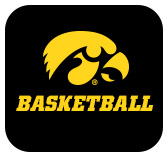 If teams want to smother All-American center Megan Gustafson in the post, Meyer will make them pay from outside. She did Sunday as Iowa (28-6) downed Missouri (24-11), 68-52, in front of 12,376 in a second-round NCAA Tournament matchup on Mediacom Court inside Carver-Hawkeye Arena.
 
Meyer, a 5-foot-9 junior guard from Mason City, Iowa, turned in her most productive postseason performance, making 6 of 9 field goals (4 of 7 from 3-point range) for 18 points. It was a welcomed complement to Gustafson's game-high 24 points.
 
"(Gustafson) has a great supporting cast and those girls know their roles," Pingeton said. "They know what is expected, they play such unselfish basketball, and they executed well."
 
Meyer drove to the hoop and drew fouls, handed out four assists, and played all 40 minutes. She made four 3-point field goals, giving her nine in the first two rounds of the NCAA Tournament.
 
"It's huge. The more 3-point shots we can put down, the easier it makes life for Megan and Hannah (Stewart) inside," Bluder said. "When you have to respect that, now all the sudden you can't double as hard, you can't cheat as much, and it opens the middle so much. It's wonderful when we're hitting 3s."
 
Meyer has scored in double figures 15 times (in 32 games) this season. She matched a career-high with 21 points at Western Kentucky on Nov. 13 and added 20 against West Virginia 10 days later. But the most points Meyer scored in the next 18 games was 18 at Penn State on Feb. 3. Unfortunately, that's when she suffered a significant knee injury, requiring her to wear a brace on her left leg since.
 
"She came back early from that and probably wasn't completely mended when she came back," Bluder said. "Now I think she is feeling good."
 
Meyer returned to the court 11 days following the injury after sitting out Iowa victories over Michigan State and Ohio State. During the final five regular season games, Meyer was 5 of 17 3-point field goals (29.4 percent) and averaged 6.8 points per game. In the final regular season game against Northwestern, she was 0 for 2 from the field and finished with two points.
 
When the Big Ten Tournament opened March 8, a more healthy and confident Meyer upped her game. She has played 40 minutes twice in those five games and has also logged minutes of 39 and 37 (twice).
 
"Our offense has been flowing nicely, we have been doing a good job of getting it inside to Megan and Megan is looking back out to us for the in-and-out 3," Meyer said. "That is a great shot for our offense. I have been able to knock my shots down."
 
In Iowa's two NCAA Tournament games — wins over Mercer and Missouri — Meyer averaged 17 points and shot 65 percent from the field and 64 percent from distance.
 
"Once you hit one, once you see the ball go through the hoop for a shooter, then keep shooting, shooting, shooting," Meyer said. "That is what gets me going."
 
Iowa, winner of seven straight and 12 of its last 13 games, advances to the Sweet 16 to play either North Carolina State or Kentucky on March 30 in Greensboro, North Carolina. It is the second trip to the Sweet 16 for the Hawkeyes in the last five seasons.
 
"This is a critical time of the season and I'm trying to help in any way I can," Meyer said.