Hawkeye Fan Shop — A Black & Gold Store | 24 Hawkeyes to Watch 2018-19 | Hawk Talk Monthly — March | I-Club Events Page | Photo Gallery
By DARREN MILLER
hawkeyesports.com
IOWA CITY, Iowa — The eighth-ranked University of Iowa women's basketball team touched down in Greensboro, North Carolina, on Thursday with milestones within reach.
 
One of 16 teams still pursuing an NCAA Tournament championship, the Hawkeyes can join an elite (pun intended) group with a victory over No. 10 North Carolina State on Saturday.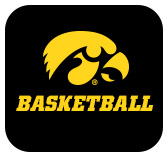 "There have only been three women's teams at Iowa that went to the Elite Eight and we want to make it four," Iowa head coach Lisa Bluder said, referencing Hawkeye teams from 1986-87, 1987-88, and 1992-93.
 
Iowa, winner of seven straight games and 17 of 19, enters the Greensboro Coliseum with a record of 28-6. Only the 1987-88 Hawkeye team finished a season with more victories (29-2).
 
"There has only been one team ever that has won 29 games, we want to make it two," Bluder said.
 
Bluder sees hunger in the eyes of her student-athletes.
 
"There is still a lot of business and a lot of work to be done with this team," she said.
 
Iowa's title quest continues Saturday at 10:30 a.m. (CT) against the Wolfpack (28-5), who defeated Maine by 12 points and Kentucky by 15 in the first two rounds of the NCAA Tournament. Perhaps the most intriguing position battle will be Iowa senior All-American center Megan Gustafson (6-foot-3) against North Carolina State freshman Elissa Cunane (6-foot-5).
 
"I see this matchup with Megan and (Cunane) as the veteran versus the rookie, but it is like experience against the next up-and-coming great center in America," Bluder said.
 
Cunane averages 13.6 points and 6.1 rebounds per game. She shoots 57 percent from the field and 76 percent from the line (attempting more than five free throws per game). During her first four postseason games, Cunane averaged 17.8 points and 9.8 rebounds.
 
Meanwhile, Gustafson averages an NCAA-best 28 points per game and also leads the nation in field goal percentage (70.1 percent). She is second in the NCAA with 13.5 rebounds per game. In five postseason games, Gustafson is averaging 29.8 points and 14.8 rebounds.
 
There is no secret with a team's strategy as the postseason moves from March to April: win, celebrate, repeat. Iowa has done that without a hitch since losing by two points at Indiana four days after knocking off Maryland, 86-73, late in the regular season.
 
"That Indiana game was a turning point for us," Gustafson said. "We realized we are a good team, but there are other teams battling and we need to keep our focus and intensity no matter what, even if we are supposed to be the better team on paper. That (game) bit us a little bit when we lost to Indiana, but we have done a nice job turning it around and keeping our intensity."
 
Also keeping the Hawkeyes focused is the fact that seniors Gustafson, Tania Davis, and Hannah Stewart are fighting for the careers; the other Hawkeyes are fighting for their seasons.
 
"It is the focus and that sense of urgency we have," Gustafson said. "This is my last shot of playing and I want to keep this going as long as I can. We have three seniors who have been here four years; they have gone through all kinds of different struggles, hard games, and postseason runs. That has been helpful having that leadership and we want to keep playing and playing with each other."
 
This is the second Sweet 16 run for a Bluder-coached Hawkeye team. Iowa dropped a Mideast Regional semifinal game to Baylor, 81-66, on March 27, 2015, in Oklahoma City.
 
"This (2018-19) team embraces the grind," Bluder said. "The personality of this group is, 'Let's get after it.'"
 
The Greensboro Final will be played April 1 at 6 p.m. (CT). The other bracket includes top-seeded Baylor (33-1) and South Carolina (23-9).