Hawk Talk Monthly — April | Hawkeye Fan Shop — A Black & Gold Store | 24 Hawkeyes to Watch | 2019 Football Tickets | I-Club Events Page
By RICK BROWN
hawkeyesports.com
IOWA CITY, Iowa — Chris Doyle's weight room represents a cross-section of the University of Iowa football program, an unbroken black-and-gold chain of success.
 
Inside you'll find players going through spring practice, trying prove themselves heading into the 2019 season.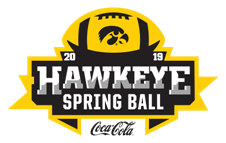 And you'll find players like Iowa's heralded tight end tandem of Noah Fant and T.J. Hockenson, expected to hear their names called early in the NFL Draft later this month.
 
You'll also find experienced NFL players like Baltimore Ravens All-Pro offensive guard Marshal Yanda, heading into a 13th season.
 
 "With Iowa football, there's always been great examples within our building of people showing you how you establish success, how you do things the right way, with humility and with hard work," said Doyle, in his 21st season as the Hawkeyes' strength and conditioning coach.  "I think that's one of the benefits of being around this place."
 
Up to 15 rostered NFL players and former Hawkeyes have spent the offseason in Doyle's weight room, following a program he and his staff put together for them. Players like James Daniels, Josh Jackson, George Kittle, Ben Niemann,  Matt Tobin, James Ferentz, Desmond King, and Yanda.
 
"We have a steady diet of NFL guys, and it's absolutely awesome to have them come back and be around our current players, and give them the opportunity to work with some of the best guys who have ever been around here," Doyle said.
 
Inside the Stew and LeNore Hansen Football Performance Center is a separate locker room that serves as home to former Hawkeyes now making a living in the NFL.
 
Inside one of those lockers is a pair of red and gray Nike shoes that belong to Yanda, a third-round pick in the 2007 NFL Draft. The shoes came in a gift package that Yanda received for making the first of his seven Pro Bowls in 2011.
 
Yanda, who just signed a $10 million contract extension this week with the Ravens, could afford any shoe he wanted. But he wears those vintage 2011 shoes every time he works out in the Iowa facility.
 
One day, Doyle asked Yanda why he wore those shoes. It is an amazing story about desire and dedication wrapped around Iowa football.
 
"He said, 'It's a reminder of that first Pro Bowl, and what it took,'" Doyle said, quoting Yanda. "'It keeps me grounded, and it reminds me of what I did to achieve that level of success and what I need to continue to do on a daily basis to play at the highest level.'"
 
Each year since he's been in the NFL, Yanda has returned to work out with the current team. His work ethic and humility rub off.
 
"He does exactly what our players do," Doyle said. "He said, 'They're growing. I need to keep keep growing, too.'"
 
Iowa has always been a developmental program, something head coach Kirk Ferentz and Doyle have embraced for more than two decades. Later this month, Hockenson and Fant could add their names to the list of seven first-round NFL picks the program has produced during the Ferentz-Doyle era. An example of iron sharpening iron, Doyle said.
 
"When you walk into a room and there's another guy that's potentially a first-round draft pick at your position, I believe T.J. benefitted from Noah and Noah benefitted from T.J.," Doyle said.
 
Both players added 30 pounds to their frames under Doyle's guidance.  Now there's an opportunity for someone on the current roster to take over that position in 2019.
 
"Now the goal, the objective, is to develop the next ones," Doyle said.
 
Soon, Doyle will welcome the incoming recruiting class to his weight room.
 
"One of the greatest things about our job is every year you have 40 kids come in the door and they're as excited as hell to be here," Doyle said. "They've been dreaming of this their whole lives, to play Division I football. So you have an extremely captive audience."
 
The recruits are players who have shown the mental and physical potential to follow the footsteps to success that guys like Yanda, Hockenson, and Fant took before them.
 
"When they pick Iowa football over some of the other options they have, they see some value in Kirk Ferentz," Doyle said. "They see some value in tough, smart, physical. They see value in how we operate at the University of Iowa, and they want that. So I can't wait to work with those guys. These are the most exciting kids in the world to roll up your sleeves and go to work with."
Iowa's spring practice continues through April 26. Requests for 2019 Iowa football season tickets can be submitted HERE or by calling 1-800-IAHAWKS.