Hawkeye Fan Shop — A Black & Gold Store | Hawk Talk Monthly – June | 24 Hawkeyes to Watch 2019-20 | Complete Notes (PDF)
THIS WEEK
The University of Iowa women's soccer team opens the 2019 season with two matches at the Iowa Soccer Complex.  The Hawkeyes will host Western Michigan on Thursday at 7 p.m. (CT)  in their regular season opener before welcoming Northern Iowa to Iowa City on Sunday at 1 p.m. Admission is free.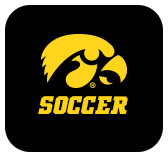 WATCH/FOLLOW LIVE
• Both games will be streamed live on BTN+ — a paid subscription service.
• Live stats for both contests will be available on hawkeyesports.com.
• Fans can follow the Iowa soccer program on Twitter (@HawkeyeSoccer) for live game updates.
WHAT YOU NEED TO KNOW
• Head coach Dave DiIanni enters his sixth season at the helm of the Iowa women's soccer program. DiIanni signed a five-year contract extension in the summer of 2019.
• Iowa went 8-7-3 last season and 4-5-3 in the Big Ten Conference.
• The Hawkeyes return 10 starters and 22 letterwinners.  Iowa returns players that accounted for 17 of the team's 20 goals, a trio of defenders that contributed to six shutouts, and the entire goalkeeper contingent.
• Ten newcomers also joined the program to round out Iowa's 36-player roster.
• Seniors Hannah Drkulec and Isabella Blackman have been voted the Hawkeyes' team captains for the 2019 season.
• Iowa won its lone exhibition game, downing Michigan, 1-0, on Aug. 16 in Ann Arbor, Michigan.  Freshman Melina Hegelheimer bent the game's lone goal into the net in the 100th minute.
HAWKEYE TIDBITS
• Iowa went 8-7-3 overall in 2018 with seven of those victories coming at the Iowa Soccer Complex as part of a 7-0-3 record.  The seven wins were the most at home since 2013 (8-2-0).
• The Hawkeyes have eight players returning that started double-digit games in 2018. Three players — Kaleigh Haus, Sara Wheaton, and Hannah Drkulec — started all 18 games.
• Iowa shut out six opponents in 2018 (Missouri, Creighton, Indiana State, VCU, Michigan State, and Michigan).
• Three Hawkeyes — Devin Burns, Natalie Winters, and Riley Whitaker — were named to the Big Ten Preseason Honors list.  Iowa was picked to finish 10th in the preseason poll.
Iowa beat Michigan, 1-0, in its lone exhibition On Aug. 16… @uiowadiianni on what the #Hawkeyes need to improve on in Thursday's season opener against Western Michigan. pic.twitter.com/xCCLoqDsCU

— Hawkeye Soccer (@HawkeyeSoccer) August 21, 2019
EXPERIENCE GALORE
• The Hawkeyes boast a roster featuring 12 seniors and 14 total upperclassmen.  The 12 seniors are believed to be the most by a team in the nation.
• The 12 seniors have combined to start 326 games in their collegiate careers. 
• Midfielder Natalie Winters has started 55 of 56 games as a Hawkeye, Claire Graves has started 50 contests, and Isabella Blackman has started 46 games.
IOWA IN SEASON OPENERS
• The Hawkeyes are 3-1-1 in season openers under head coach Dave DiIanni, including a 1-0 overtime victory over UNI in 2014.  That was DiIanni's first career win at Iowa.
• Last season, Iowa tied Missouri, 0-0, in its regular season opener.
SENIOR NATALIE WINTERS… 
• has started 55 of 56 career games.
• is a three-time All-Big Ten selection, earning All-Freshman team honors in 2016 and third-team All-Big Ten honors as a sophomore and junior.  She also earned All-Region honors in 2018.
• led the team with five goals in 2018 en route to being named Iowa's team MVP and Offensive Player of the Year.
GRAVES CLIMBING IOWA RECORD BOOKS
Senior Claire Graves enters her senior season ranking in the top-five in three career categories in Iowa history.  The Indiana native is second in career shutouts (17), third in career victories (24), and fifth in career saves (191).
SCOUTING WESTERN MICHIGAN
• Western Michigan was selected to finish sixth in the Mid-American Conference Preseason Coaches Poll.  The Broncos went 14-7-0 last season, including posting a 7-4 record in MAC play.
• The Broncos return four All-MAC selections in midfielder Hannah Kahn, goalkeeper Hannah Sargent, and defenders Victoria Kyriakopoulos and Kai Sugiyama.  
• WMU posted a 4-0 shutout victory over Valparaiso during a Aug. 16 exhibition contest in Kalamazoo.  All four goals came in the second half. 
• Western Michigan has three of its top five goal scorers returning in Grace Labadie (5 goals), Kahn (5 goals), and Morgan Otteson (5 goals).  Labadie finished with a team-leading 20 points in 2018.
• Sargent is back in the fold between the posts after posting a 1.27 goals against average, making 91 saves, and tallying seven shutouts.
• The Broncos are led by interim head coach Sammy Boateng, who joined the program as an assistant coach in January before being promoted to the head chair in July.  
SCOUTING NORTHERN IOWA
• The Panthers have been selected to place fifth in the Missouri Valley Conference Preseason Coaches Poll.  UNI returns 19 letterwinners and four starters, including honorable mention all-conference forward Sydney Hayden.
• UNI finished 9-7-3 overall and 4-3-0 in MVC a season ago and advanced to the quarterfinals of the MVC Tournament.
• The Panthers dropped a 4-0 decision to Iowa State on Aug. 14 during an exhibition game in Waterloo.  The Cyclones out-shot UNI, 13-3, in the game.
• Hayden led UNI with six goals in 2018.
SERIES RECORDS
• Iowa is 1-0 all-time against Western Michigan.  The Hawkeyes downed the Broncos, 3-1, in Iowa City in the second game of the 2013 season.
• The Hawkeyes are 13-0 all-time against Northern Iowa, but the last two meetings — 2014 and 2015 — came in overtime.  Iowa has outscored the Panthers, 38-5, in the all-time series.
ROSTER BREAKDOWN
• Seniors Kaleigh Haus and Devin Burns return for their third season as Iowa's starting forwards.  Haus was second on the team (to midfielder Natalie Winters) in points (four goals, one assist), while Burns found the net twice.  Burns was Iowa's top offensive weapon in 2017, scoring nine times, but she battled injury last season.
• Iowa's midfield welcomes back seniors Natalie Winters, Isabella Blackman, Sydney Blitchok, and sophomore Hailey Rydberg.  Winters scored five times in 2018, while Blackman started 16 games.
• Iowa has three defensive stalwarts returning in senior Hannah Drkulec and sophomores Riley Whitaker and Sara Wheaton.  Wheaton logged 1,613 minutes — the second-most on the team — and Drkulec was third with 1,583 minutes.  The trio helped the Hawkeyes post six shutouts.
• Iowa welcomes back both of its goalkeepers in senior Claire Graves and redshirt junior Cora Meyers.  Graves tallied seven wins and posted six shutouts, while finishing with a 0.86 goals against average and 43 saves.  Meyers started seven contests where she had a 1.64 goals against average and made 18 stops.
• The Hawkeyes welcome 10 newcomers — nine freshmen and a sophomore.  Three players — Samantha Cary, Samantha Cramin, and Samantha Tawharu — joined the program in January.  
• Tawharu played for the New Zealand Junior National Team, while incoming forward Gianna Gourley was the Nevada Gatorade Player of the Year.
NEW FACE 
Blair Quinn joined the program as associate head coach, where he will coach the Iowa goalkeepers.  Quinn joins the program with 16 years of collegiate coaching experience with his most recent stop being at the University of Houston.
2019 SCHEDULE
• The 2019 schedule will feature 11 home matches at the Iowa Soccer Complex.
• The Hawkeyes will face six teams that advanced to the NCAA Tournament, including two teams that were in the Sweet 16.
• Three opponents — Penn State (6), Wisconsin (16), and NC State (21) — are in the United Soccer Coaches Preseason Top-25, while three additional opponents (Minnesota, Rutgers, and Ohio State) are receiving votes.
PROMOTIONS
• The Hawkeyes will have a variety of themed matches this season, including a Junior Hawk Club Day (Aug. 25), Black Out (Aug. 29), Youth Soccer Night (Sept. 13), Greek Night (Sept. 26), Fan Fest with Iowa Field Hockey (Sept. 29), Pink Night (Oct. 3), and Alumni Night (Oct. 11).
• Fans will have opportunities to college several giveaways as well as participate in autograph sessions with the Hawkeyes.
NEXT UP
The Hawkeyes round out their four-game homestand, hosting Iowa State in an Iowa Corn Cy-Hawk Series matchup on Aug. 29 and Illinois State on Sept. 1.