Hawkeye Fan Shop — A Black & Gold Store | 24 Hawkeyes to Watch 2019-20 | Hawk Talk Monthly — September
By DARREN MILLER
hawkeyesports.com
IOWA CITY, Iowa — Michael Proctor strolled to the parallel bars to make his meet debut at the most critical point of the 1969 NCAA Men's Gymnastics Championships.
 
Like the rest of the Hawkeyes, Proctor, a University of Iowa sophomore from Park Forest, Illinois, knew what needed to be done. If he earned a score of 8.6 or better, Iowa would win its first NCAA team championship in school history.
 
Earlier that day, Proctor drove to view mountains and a mountain stream for the first time in his life. It cleared his mind and was so relaxing that he was tardy returning to the championship venue. He missed warmups.
 
"I saunter in late and everybody is excited, wondering where I was," Proctor said. "I had to go to the back room and do some flexibility."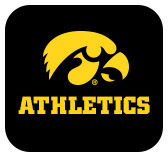 During his focused routine, Proctor executed a Stutz hand trick, scored 8.85, and history was made on April 5, 1969, in Seattle's Hec Edmundson Pavillion. Senior co-captain Bob Dickson followed Proctor with a 9.0 to extend Iowa's winning margin over runner-up Penn State, 161.175 to 160.450.
 
"It was a matter of timing," Proctor said. "The miracle was, I had a pretty hard routine that I goofed up a lot in other meets. The whole team was on pins and needles when I was performing."
 
His pre-meet site-seeing proved therapeutic.
 
"That was so inspiring, it made me not think about that routine," Proctor said. "It relaxed me and I did fine. I'm totally sure that made the difference."
 
Among the Hawkeye cheers was a collective sigh of relief for a program that gained national acclaim by winning Big Ten Championships in 1967 and 1968 and entered both those NCAA Championships as the favorite. This was the final chance for Iowa's three seniors who earned spots on its NCAA team: Don Hatch, Keith McCanless, and Dickson.
 
"We thought we could win all three years," said McCanless, a two-time NCAA individual champion on pommel horse. "Because we had come so close before, and all of us knew this was our last chance, we thought this was the year we could get it done."
 
The Hawkeyes scored 26.65 on parallel bars (Rich Scorza added 8.8), 26.4 on floor (Dick Taffe 8.65, Dickson 8.8, Barry Slotten 8.95), 26.75 on vault (Phillip Farnam 8.85, Scorza 8.875, Dickson 9.0), 26.9 on pommel horse (Scorza 8.15, Ken Liehr 9.15, McCanless 9.6), 27.1 on rings (Roger Neist 8.55, Dickson 9.1, Hatch 9.45), and 27.4 on high bar (Farnam 9.05, Dickson 9.1, Scorza 9.25).
 
Dickson contributed 45 points to Iowa's final team score, Scorza had 35.075, and Farnam added 17.9.
 
"It was almost if we were motivated not to screw up," McCanless said. "It was quite emotional and because of that, this team remains extremely close."
 
Frederick McCanless, Keith's father, had a lot to do with documenting the historic Hawkeye feat. Before traveling to Seattle, McCanless purchased a super 8 millimeter video camera and filmed highlights from his seat in the stands. It remains Iowa's only known footage from the team final.  
 
The home video captured the Hawkeye contingent entering the venue wearing gold warmup jackets over all-white singlets with gold letters IOWA outlined in black. There were two competitions that day — a team competition in the morning and an individual competition in the afternoon.
 
An interesting development led to the Hawkeyes being in Seattle at all.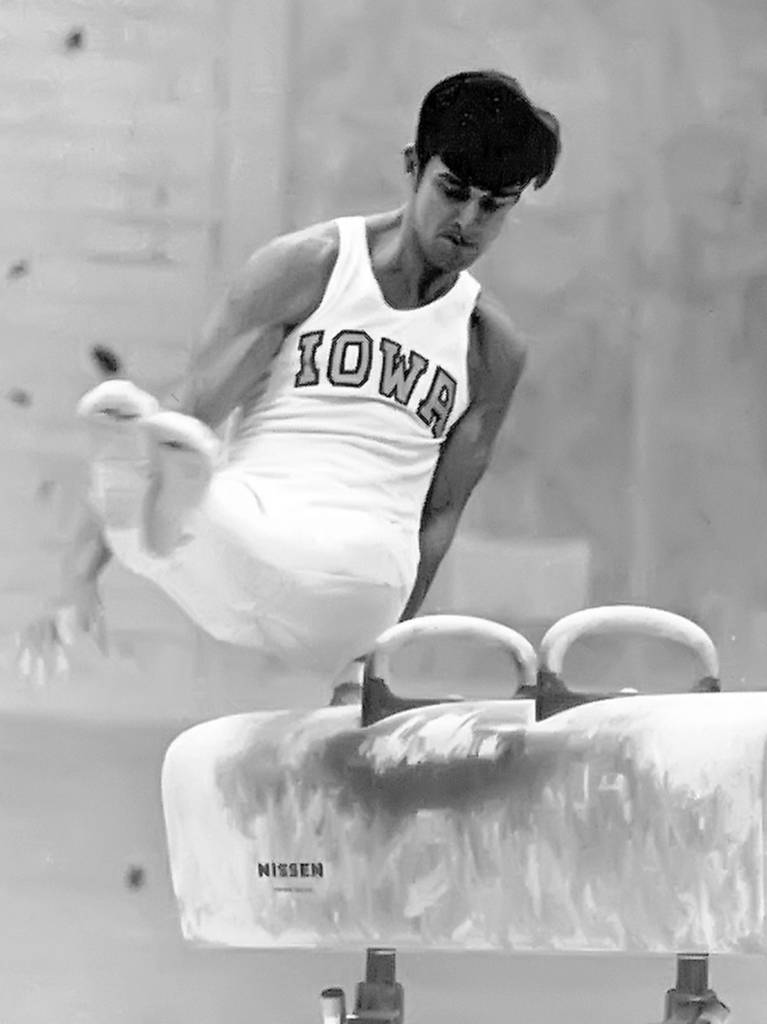 "If you are at a championship caliber, we realized you not only have to be good, but you have to be lucky," McCanless said. "The first two years we were good enough, but our luck didn't hold out."
 
In 1969, the NCAA removed trampoline as a seventh event to determine a national champion. The Big Ten, however, retained trampoline when deciding a league champion, which became the NCAA qualifier. Because of the new NCAA ruling, the Big Ten held a six-event qualification meet the day before the actual Big Ten Championships to determine what team advanced to Seattle. Iowa won the qualification meet; the next day, Michigan won the Big Ten title.
 
"Quite frankly, we didn't care," McCanless said about results from the second day of competition.
 
The Hawkeyes, led by first-year head coach Mike Jacobson, were headed to the NCAA Championships, where a preliminary team qualifier would whittle eight teams down to three that would then compete in the team final. Penn State, not Iowa or third-place Iowa State, had the best showing in the qualifier.
 
"We were lucky to get by Michigan and then we took second to Penn State in the prelims of the NCAA," McCanless said. "The amazing part is that everybody hit their routines in the team final and we won. We had to have everyone hit perfectly."
 
Iowa was the only team in the Big Ten Conference that hadn't won an NCAA team championship in any sport up to the 1968-69 season. That changed in Seattle. McCanless returned in the second session to win his second NCAA individual title in the pommel horse.
 
"I always felt winning with the team was more important than winning as an individual," McCanless said. "It's one thing to win by yourself and people pat you on the back, and it's another thing to be on a team that everybody is thrilled that we won. It was much, much better as a team."
 
Iowa has made 34 NCAA appearances in men's gymnastics since 1969, placing second in 1998. Throughout that five-decade stretch, the Hawkeyes remain one of the strongest gymnastics programs in the nation. Still, every team chases the memory of that magical April day in 1969.
 
Meanwhile, within two years of the NCAA team championship performance, Proctor moved to British Columbia, Canada. There are mountains there, and he continues to live a relaxed and satisfied life.