Hawkeye Fan Shop — A Black & Gold Store | 24 Hawkeyes to Watch 2019-20 | Hawk Talk Monthly — September
By MAGGIE WESLEY
hawkeyesports.com
IOWA CITY, Iowa – University of Iowa assistant coach Jay Niemann is an Iowa native with sons a part of the Hawkeye football program, past and present. Much like Iowa head coach Kirk Ferentz, Niemann has the opportunity to coach alongside his son, junior linebacker Nick Niemann.
"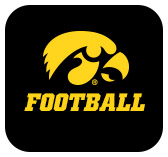 It's different when you are not the actual position coach of the position your son plays, but we do have interaction on the field, which has made it fun," said Niemann. "It's not what happens on the field. Being able to see him inside the facility, training table, meeting room; those are not opportunities we've had previously. It has been a lot of fun and I am very grateful."
As a college athlete turned coach, Jay Niemann has moved up the totem pole of coaching throughout the years. He comes to Iowa with a different perspective on how to approach a defensive line.
"The big thing is to find ideas that fit our system. Every system is different defensively even if it's 4-3 or 3-4. In this case here, we are a 4-3 defense," said Niemann. "The idea is that you bring from 4-3 backgrounds and they still need to fit the system because everyone has their own intricacies about it. I've tried to do that where I can, but we also have a very detailed system that has been successful for a long time. There aren't many things that need changed about it. It's functioning just fine how it is."
Last week, Niemann had the opportunity to coach against Rutgers, a school where he was on staff from 2016-18. Under his guidance, Iowa defense surrendered just 125 yards, the fifth-lowest total in the Ferentz era, and collected two interceptions. Rutgers finished with only 41 yards passing.
With the attention surrounding ESPN College Gameday against Iowa State, Niemann's alma mater, the defensive line prepares no differently this week.
"In some respects, it's just another game on the schedule," said Niemann. "Everyone has a little bit more emotion behind it. We must practice hard, prepare well, and do the things that we do on any other week that make us successful."
The Hawkeyes travel to Ames, Iowa, to compete in the annual Iowa Corn Cy-Hawk Series matchup against Iowa State. The game will be televised on FS1 at 3:05 p.m. (CT).
  
Iowa football hosts Minnesota in the battle for Floyd of Rosedale on Saturday, Nov. 16.  Fans are encouraged to wear black for the Blackout game, and it is the annual military appreciation celebration. Active duty military and veterans are eligible for a military ticket discount. Click HERE for tickets and pre-paid parking and additional game information.