Hawkeye Fan Shop — A Black & Gold Store | 24 Hawkeyes to Watch 2019-20 | Hawk Talk Monthly — September | Hawkeyes in the NFL | Football Freshman: Jack Campbell
By DARREN MILLER
hawkeyesports.com
IOWA CITY, Iowa — Queue music from the Charlie Daniels Band, complete with a fiddle riff.
 
"The Hawkeyes went down to Georgia, they were looking for a back to steal. With a strong O-line, they did just fine when Tyler Goodson sealed the deal."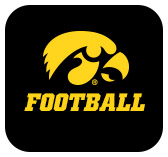 Those lyrics are guaranteed to make Goodson smile. He typically has a smile on his face anyway.
 
Of all the University of Iowa true freshmen to see action during the first two weekends, Goodson, a 5-foot, 10-inch, 190-pound running back, has been the most visible. He carried the ball nine times for 36 yards during Iowa's 38-14 win over Miami (Ohio) on Aug. 31, then 10 times for 53 yards during a 30-0 win over Rutgers on Sept. 7.
 
It's easy to notice and gawk at Goodson's potential. On his first play against Rutgers, he leaned right, took a handoff from quarterback Nate Stanley, and ran through a hole on the left side. After three jukes to the right, he finished with a gain of 19 yards.
 
"I'm not worried about personal highlights, I'm just worried about focusing on who we have next, the next play," Goodson said. "I want to make myself better as a person with my character and attitude by listening to the older guys and taking what I learn from them to put on the field and even in practice."
 
It has been nine seasons since the Hawkeyes have used a true freshman running back as much as Goodson. In 2009, Brandon Wegher ran for 641 yards and eight touchdowns, and in 2010, Marcus Coker ran for 622 yards and three touchdowns.
 
"Being able to play him a little bit the last couple weeks is going to help him as we move forward with the season," Iowa head coach Kirk Ferentz said. "He is a young player who is energetic out there. He has good ball skills and quick feet. Every day, the game is slowing down a little bit for him. That's probably the biggest thing when you're coming from high school to college, sometimes it is going a little fast, but he has handled it pretty well."
 
In two games, Goodson also has three pass receptions.
 
Along with football, Goodson played basketball and ran track in high school. He competed in the 100, 200, 400, sprint relays, and long jump.
 
"Track teaches explosiveness, technique, and how to relax up top," Goodson said. 
 
Iowa has a history of recruiting the state of Georgia, specifically the Atlanta area. Ferentz said LeVar Woods has connections in the area, so does Seth Wallace, who spent five seasons coaching at Valdosta State in Valdosta, Georgia. Running backs coach Derrick Foster is from Goshen, Alabama, and has done a nice job recruiting that part of the country.
 
There was also a connection already on Iowa's roster. Goodson attended North Gwinnett High School, which also produced former Hawkeye linebacker Jayden McDonald.
 
"Recruitment came up late for me, so I had a lot of stuff thrown at me fast," said Goodson, who was named Gatorade Player of the Year in Georgia. "Coach Foster called me, we met in person, and we had an instant connection. I felt safe around him, then when I came to visit, I had a teammate here (Jaydan McDonald). He told me to come, it's different."
 
Different as in family-oriented. Goodson also liked the fact that the University of Iowa Hospitals and Clinics was so close to campus. Not necessarily because of his major — he is interested in health and human physiology — but because of the children.
 
"What interested me the most were the kids in the hospital," Goodson said. "I like helping kids."
 
For now, Goodson is helping an Iowa running attack that has averaged 203.5 yards per game, fifth in the Big Ten. Next up is an intrastate Iowa Corn Cy-Hawk Series matchup against Iowa State on Sept. 14 in Ames, Iowa. Kickoff is set for 3 p.m. (CT).
 
Iowa football hosts Minnesota in the battle for Floyd of Rosedale on Saturday, Nov. 16.  Fans are encouraged to wear black for the Blackout game, and it is the annual military appreciation celebration. Active duty military and veterans are eligible for a military ticket discount. Click HERE for tickets and pre-paid parking and additional game information.