Hawkeye Fan Shop — A Black & Gold Store | Hawk Talk Monthly — September | Fight For Iowa | Photo Gallery | B1G Media Day Transcript (PDF)
By JAMES ALLAN
hawkeyesports.com
ROSEMONT, Ill. — Don't sleep on the University of Iowa men's basketball team in 2019-20.
 
Sure the Hawkeyes lost Tyler Cook to the NBA, Nicholas Baer to graduation, and senior Jordan Bohannon's status is in question following offseason hip surgery, but the team is deep and versatile.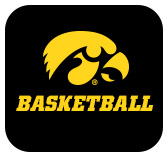 "Even though we lost key guys, we have a lot of guys coming back, guys who redshirted last year and spent the whole year working on their games that people haven't seen yet," said junior Luka Garza on Wednesday at the Big Ten Basketball Media Day at the Hilton Rosemont.
 
"We're going to be one of those unexpected teams that you don't know what you can get out of, but we fit well with each other, especially on the offensive end."
 
The Hawkeyes return preseason All-Big Ten selection Joe Wieskamp following a freshman season where he averaged 11.1 points and 4.9 rebounds.  Along with Garza's inside-out game, Iowa has versatile big men in senior Ryan Kriener and Jack Nunge and a banger in redshirt junior Cordell Pemsl.
 
Add in redshirt freshman CJ Fredrick, freshmen Patrick McCaffery and Joe Toussaint, and graduate transfer Bakari Evelyn, the Hawkeyes will go 10-deep.
 
"We have a lot of talented guys," said Wieskamp, who is the third player under Fran McCaffery to be named to the 10-player preseason All-Big Ten team. "We have a lot of redshirts and freshmen coming in who are going to extend the floor. 
 
"Tyler (Cook) was a confident player and scored well around the basket, but we're going to have guys like Jack Nunge stepping out at the four spot who can shoot the ball and that's going to spread the floor and open up driving lanes, giving us different possibilities."
 
It will give the Hawkeyes, a team that averaged 78.3 points a season ago, a chance to be more offensive.
 
Iowa is picked as a middle of the pack Big Ten team in the preseason, which is par for the course.  Expectations weren't high last season when Iowa won 23 games and advanced into the second round of the NCAA Tournament.
 
"Not a lot of media people are expecting us to do well," said Wieskamp. "That gives us a chip on our shoulder, we'll be playing as the underdog most games and we're OK with that.
 
"We have a lot to prove, but we have a lot of talented guys who haven't had a chance to prove themselves yet. People don't know what we're capable of and we'll be able to show that come November and further on."
 
Bohannon's status remains in the balance.  McCaffery says if he's healthy he'll play, but he wants him to be as close to 100 percent as possible.
 
"I would have said 7-8 weeks ago we were playing without him, but now there is a possibility," said McCaffery. "He's not playing, but he's dribbling, shooting and doing some things. We're trying not to put pressure on him in any way because I want him to be able to play his senior year as pain-free as possible.
 
"We're planning as if he's not playing. If he plays, we'll be thrilled and he'll be able to jump back in because of how good he is and because he's our senior leader."
 
With or without Bohannon, expectations or no expectations, the Hawkeyes' goals don't change.
 
"We're not worried about what other people say," said Garza. "We want to win. We want to get to the tournament, go deep into tournament, go to Final Four, win a Big Ten Championship. That pushes us every day. 
 
"At the end of the day, we are going to surprise people because people are looking over us."
Iowa will hit the court for the first time Nov. 4, hosting Lindsey Wilson College in an exhibition on Mediacom Court at Carver-Hawkeye Arena at 7 p.m. (CT).
 
The Fight For Iowa Mobile Season Pass, season tickets, and mini packages are currently available for purchase on hawkeyesports.com/fightforiowa.