Hawkeye Fan Shop — A Black & Gold Store | 24 Hawkeyes to Watch 2019-20 | Hawk Talk Monthly — October
By MAGGIE WESLEY
hawkeyesports.com
 
IOWA CITY, Iowa — Two meets into her career, Leah Kralovetz has made her name known on the University of Iowa women's cross country team. Already feeling at home with the Hawkeyes, the women's team has opened its arms wide open to Kralovetz, a native of Denmark, Wisconsin.
"We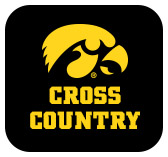 're a close group of girls. It's been a lot of fun getting to know them and our relationships have grown so much, and I think that's really helped us to get where we are," Kralovetz said.
Finishing fourth out of 189 women, Kralovetz set a personal best in 5,000 meters (17:31.4) at the Woody Greeno Invite on Sept. 21 in Lincoln, Nebraska. In the Hawkeyes' first meet on the road, Kralovetz snagged the team's top spot.
"It was weird. I wasn't feeling very good before the race," said Kralovetz. "God just took my pain away when I was running. It was a cool feeling. I didn't think about it, I just felt very light and free while running. I always try to tell myself there isn't a pecking order. This person isn't the first, this one isn't the second. We're all in this together and wherever we end up on that given day is what God had planned."
Watching Kralovetz compete, one would think her life plan was to run on this level. However, the path was not always that certain. Growing up in a soccer-centered family, Kralovetz never saw running competitively on her horizon.
"Running hasn't always been a part of my life. I actually thought I was going to play college soccer when I was younger," Kralovetz said. "Soccer was a big thing in my family. My oldest brother, Cory, had started the men's soccer program at our high school, so I was assuming I would play soccer too. I had played since I was four. I love soccer, but God gave me different gifts that I found out later in life."
After being approached by the cross country coach to join the team, Kralovetz soon became a novelty within the running community, setting school records in the 5,000 (17:46.7), 3,200 (10:35.63), and 1,600 (4:56.84).
"My junior year at cross country, I took fifth at state. I was planning on doing soccer that coming spring, but my coach, Mr. Wetzel talked to me and told me I could do this at a collegiate level. He told me I would need to also commit to track. I agreed but said I only would compete in the mile. Fast forward to now, I am trying to run the 10k for the Hawkeyes, which is funny because it's the most you can run."
Kralovetz took first at state her senior year. She earned first-team All-Conference honors twice and was a four-time team MVP. She was a recipient of several honors, including Wisconsin Coaches Association Runner of the Year, Lee Remmel Sports Awards: Prep-Achievement Award, and Wisconsin Sports Awards: Cross Country Runner of the Year.
As for the things that have stayed constant in her life during her whirlwind of success, Kralovetz is extremely close to her family. The daughter of Jerry and Deb Kralovetz and sister to Cory and Travis, incorporates faith in everything she does.
"It's so heartwarming with all the comments from everyone back home," said Kralovetz. "There have been moments when I've been overwhelmed, but it's nice to keep in contact with my mom and dad and brothers. That seems to help a lot, getting to talk to them and making time for them. My family and faith are important parts of my life."
With the season picking up, Kralovetz is looking forward to more races to come and excited to find her niche within the team.
"I hope to get another PR," Kralovetz said. "I heard next week's course is flatter. I am looking forward to seeing what God has planned for me ahead."
The Hawkeyes travel to South Bend, Indiana for the Notre Dame Invitational on Oct. 4. The women will run 5,000 meters. The men will run 8,000 meters.