Hawkeye Fan Shop — A Black & Gold Store | Hawk Talk Monthly — September | I-Club Events Page | Photo Gallery | Complete Results (PDF)
IOWA CITY, Iowa — The University of Iowa swimming and diving team won 24 of 32 events to post three victories Friday in its season opener at the Campus Recreation and Wellness Center.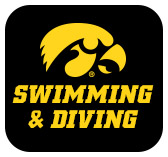 The Hawkeye men posted a 180-112 Big Ten victory over Michigan State, while the women went 2-0, downing Michigan State and Northern Iowa by the score of 183-113.
 
QUOTING HEAD COACH MARC LONG
"It was great to see them race. We're so new and young, to put them in this situation is outstanding. We're learning a lot about them as competitors. The thing we wanted to focus on was competing.
 
"We're putting them in situations that will challenge them. It's exciting, there is such a great energy they have. People were swimming in off events, some were in a tough training situations and they stepped up and raced. That's all we can ask for right now."
 
MEN'S HIGHLIGHTS
Sophomore Anze Fers Erzen highlighted the Hawkeyes' victory over Michigan State, as he won three events, swimming to victories in the 100 back (50.36), 200 back (1:47.57), and 200 IM (1:51.61).  Sophomore Mateusz Arndt won two distance events, touching first in the 1,000 (9:25.52) and 500 (4:29.99) free.
 
The Hawkeyes dominated in four events, going 1-2-3 in the 100 back and 200 IM and 1-2-3-4 in the 100 free and off the 1-meter springboard.
 
Fers Erzen won the 100 back and he was followed by freshman Ryan Purdy (50.65) and senior John Colin (50.75). Sophomore Dolan Craine (1:53.27) and Purdy (1:54.62) were second and third behind Fers Erzen in the 200 IM.
 
Sophomore Aleksey Tarasenko won the 100 free in 44.85 seconds, while Joe Myhre (45.55), Steve Fiolic (46.25), and senior Will Scott (46.29) were second through fourth.  Iowa occupied the top four spots off the 1-meter with Michael Huebner (293.70) winning, followed by juniors Anton Hoherz (293.45) and Jonatan Posligua (267.65) and freshman Mohamed Neuman (260.85).
 
🗣 Listen to what head coach Marc Long had to say following Friday's season opener.  Iowa posted dual wins over Michigan State and UNI.  #Hawkeyes pic.twitter.com/nZnLuJRHXf

— Iowa Swim & Dive (@IowaSwimDive) October 4, 2019
The Hawkeyes also got a win from Colin, Will Myhre, Michael Tenney, and Joe Myhre in the 200-medley relay with a time of 1:30.52 and the 400-free relay consisting of Tarasenko, Fiolic, Scott, and Joe Myhre (3:01.45).
 
Iowa also posted individual victories in the 100 breast (Will Myhre, 55.25), 200 fly (Tenney, 1:50.72), 50 free (Scott, 20.46), and 3-meter springboard (Hoherz, 341.60).  Hoherz's mark was an NCAA Zone Diving standard.
 
QUOTING SENIOR WILL SCOTT
"As a team we had some outstanding performances — Aleksey Tarasenko, Mateusz Arndt, Will Myhre's 55 in the breaststroke.  We're looking good in practice, good in this first meet and the intrasquad last week.  It's going to shape up to be a good season if everything stays on track, which right now it looks like we're starting to get that ball rolling."
 
WOMEN'S HIGHLIGHTS
Freshman Millie Sansome's performance was a highlight for the women's team in its two victories to open the regular season.  The England native won four events, swimming to individual wins in the 1,000 free in 10:10.49 and 500 free (4:59.67).  She was also part of the winning 200-medley relay (1:42.94) and 400-free relay (3:28.81).
 
Joining Sansome on the 200-medley relay were juniors Sage Ohlensehlen and Kelsey Drake, and senior Hannah Burvill, while Burvill, freshman Maddie Ziegert, and sophomore Lauren McDougall joined her on the 400-free relay.
 
McDougall also sprinted to victories in the 200 free (1:50.37) and 100 free (51.60).  Iowa went 1-2-3-4 in the 200 free with senior Allyssa Fluit (1:52.02) and freshmen Macy Rink (1:54.15) and Erin Lang (1:54.58) finishing two through four.
 
Drake swam to victories in the 100 fly (55.45) and 200 fly (2:02.76), while Ziegert sprinted to a win in the 50 free in 23.95 seconds.
 
In the diving well, Iowa swept the action.  Junior Jayah Mathews won the 1-meter with a score of 296.25, while sophomore Sam Tamborski was third.  Iowa went 1-2-3 off the 3-meter with Tamborski winning the event with a score of 316.45.  Senior Thelma Strandberg was second with a 269.45 and Mathews was third (264.70).
 
Mathews (1-meter) and Tamborski (1-meter, 3-meter) both posted NCAA Zone standards.
 
QUOTING FRESHMAN MILLIE SANSOME
"I was happy with my performance. It's an adjustment swimming in meters from yards, so there are things I can work on, but I have set a good baseline.  The atmosphere and team support was amazing.  You were ready to get up and race, even if you were hurting, you felt when you got on the blocks that you were ready to give it everything."
 
NEXT UP
The Hawkeye women return to action Oct. 11-12, traveling to Dallas to compete in the SMU Classic.  Both teams are back in action Oct. 26 in a Big Ten dual against Minnesota in Iowa City.