Hawkeye Fan Shop — A Black & Gold Store | 24 Hawkeyes to Watch 2019-20 | Hawk Talk Monthly — September
By JAMES ALLAN
hawkeyesports.com
IOWA CITY, Iowa — Before joining the starting lineup in the sixth week of the season, sophomore Samantha Tawharu was making an impact as a super-sub for the University of Iowa women's soccer team.
 
The New Zealand native came off the bench as a reserve forward, helping the Hawkeyes to a 10-2 start. Tawharu is fifth on the team with three goals, which includes the game-winning strike in the Hawkeyes' road win at No. 14 North Carolina State.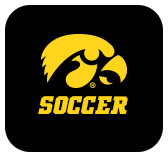 "I have been trying to be a high-energy player and provide what we need for the team to succeed," said Tawharu. "Whether that is starting, coming off the bench, playing a few or a lot of minutes, I am doing what I can to help the team in any way I can."
 
Tawharu used her experience with the New Zealand Youth National Team to adjust to playing NCAA Division I soccer. She competed on the FIFA U17 and U20 Women's Youth World Cup teams, scoring nine goals in nine matches for the U20 team and 11 goals in 10 games for the U17 team.
 
"She has an incredible soccer IQ from playing at such a high level," said Iowa head coach Dave DiIanni. "She came in with a knowledge that is above and beyond other players soccer-wise. Anytime you have someone that has played at that level, they are going to come in with an element of experience and maturity."
 
When Tawharu expressed interest coming to the United States, DiIanni was one of the first coaches to make contact. Tawharu didn't know the first thing about Iowa — the state or university.
 
"I didn't know how they played and I hadn't ever heard of Iowa," she said. "When (coach DiIanni) came over, he told me more about it, and it has been a new experience, which is nice."
 
Tawharu arrived in Iowa City in January. The Polar Vortex hit the Midwest shortly thereafter.
 
"It was a change with the climate and everything," said Tawharu. "Back home, it doesn't even snow. It felt like the Antarctic with the extreme cold temperatures. The girls helped me settle in. I had a few slips, but it was an experience.
 
"It was scary coming here at first, but everyone was so welcoming and nice. I wouldn't change this experience for anything, I love it here."
 
Tawharu scored her first collegiate goal in Iowa's 6-1 victory over Northern Iowa on Aug. 25 before netting the game-winner at North Carolina State on Sept. 6. She scored for the third time in Iowa's Big Ten opening victory at Indiana.
 
In 12 games, Tawharu has three goals on 10 shots and she has contributed three assists, which ties for the team lead.
 
"She's a player people want to run off and she's going to create," said DiIanni. "She can get the ball in places that are dangerous. We need her to be a bit more selfish and hunt for her own opportunities."
 
Tawharu wants to keep attacking and expand on the strong start to her Hawkeye career.
 
"I am trying to build off what I have done and keep forming new ways to go about things, attacking-wise and trying to bring more flair into the game," said Tawharu. "I want to keep providing energy and be consistent."
The Hawkeyes return to action Sunday, traveling to East Lansing for a noon (CT) Big Ten game against Michigan State.