Hawkeye Fan Shop — A Black & Gold Store | 24 Hawkeyes to Watch 2019-20 | Hawk Talk Monthly — October | Hawkeyes in the NFL | Game Recap | Defense, Golston Shine at Michigan | Stone has a Knack for Doing Good Things
By DARREN MILLER
hawkeyesports.com
IOWA CITY, Iowa — There is one thing better than playing a top 10 football team in Kinnick Stadium.
 
Playing there at night.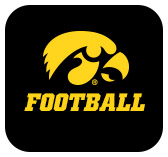 "It will be great to get back in Kinnick, especially for a night game," Iowa head football coach Kirk Ferentz said Sunday. "Night games are always pretty electric at our place. Playing a top 10 opponent is great opportunity for our team and a great challenge that we look forward to."
 
Penn State (5-0 overall, 2-0 Big Ten) is ranked ninth in the coaches poll and 10th by media; Iowa (4-1, 1-1) is 17th by media and 18th by coaches. Kickoff on Oct. 12 is set for 6:30 p.m. (CT); the game is sold out.
 
Ferentz focused on the development of young Hawkeyes on both sides of the ball following a 10-3 loss at Michigan on Saturday. Iowa's defense held Michigan to a season-low 10 points and 267 yards.
 
None of the top five Hawkeye defensive linemen had started a game prior to this season.
 
"We had guys who have played, but hadn't started games, they are progressing five weeks into it now," Ferentz said. "Chauncey (Golston) played well yesterday back in his home state. With Brady (Reiff) out, Austin Schulte has started the last two weeks, but he and Daviyon (Nixon) are splitting those reps and those guys are doing a good job. This is Austin's first significant playing time, the same thing with Daviyon, and pleased with the growth we are seeing out of both those players."
 
An impressive newbie on offense has been wide receiver Nico Ragaini. He caught six passes for 46 yards at Michigan, and added four punt returns for 54 yards.
 
"He made big plays for us (Saturday) and had a near miss on a touchdown," Ferentz said. "That was certainly his best day as a punt returner as well. There are positives in the game, hopefully we can build off those as we move forward."
 
In the very un-Iowa category were penalties (eight for 60 yards), sacks allowed (eight for 65 yards), and turnovers (four).
 
"We broke a lot of our principles," Ferentz said. "We had too many penalties offensively, we turned it over and had negative yardage plays."
 
For whatever reason, many of the negative yardage plays occurred on second down. A bright spot was Iowa converting six times on third down Saturday, with four of those plays covering 15, 19, 22, and 34 yards.
 
"We found ourselves in some tough third down situations and converted challenging third down conversion," Ferentz said. "That is a positive, we have done that all year long, maybe not to that extent. Good plays in there, too, but we made the hill a little steeper than we need to, especially against a good football team like Michigan."
 
Iowa football hosts Minnesota in the battle for Floyd of Rosedale on Saturday, Nov. 16.  Fans are encouraged to wear black for the Blackout game, and it is the annual military appreciation celebration. Active duty military and veterans are eligible for a military ticket discount. Click HERE for tickets and pre-paid parking and additional game information.