Hawkeye Fan Shop — A Black & Gold Store | Hawk Talk Monthly — October | 24 Hawkeyes to Watch 2019-20 | Hawkeyes in the NFL | Football Freshman: Jermari Harris | Football Freshman: Justin Britt | Football Freshman: Tyler Goodson | Football Freshman: Jack Campbell
By DARREN MILLER
hawkeyesports.com
IOWA CITY, Iowa — Catching passes was never an issue for Sam LaPorta. He had 68 receptions for 1,457 yards and 19 touchdowns as a senior at Highland (Illinois) High School.
 
Blocking was another story. It's not that he didn't like doing it, but in high school, he wasn't asked to do it a lot.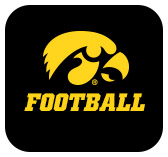 "I didn't have my hand on the ground as much in high school because my role on the team was to catch the ball more," said LaPorta, a University of Iowa freshman tight end. "Now my role is to stick my hand on the ground and do a lot of blocking, so that is fine with me."
 
Recruiting any high school athlete can be a projection or leap of faith. But Iowa head coach Kirk Ferentz wasn't worried about teaching a high school wide receiver (Iowa would call the position flex tight end) how to block.
 
"Blocking is more wanting to do it," Ferentz said. "Guys that have that willingness, it may take them time because it is new to them, but usually they get the hang of it."
 
LaPorta is getting the hang of it. The 6-foot, 4-inch, 242-pounder played in the first four games of the season for the No. 17/18 Hawkeyes, who will be in action in prime time Saturday against No. 9/10 Penn State.
 
On his recruiting visit to Iowa, LaPorta was hosted by John Mackey Award-winning tight end T.J. Hockenson, who became the eighth selection in the 2019 NFL Draft by the Detroit Lions.
 
"It was pretty cool to experience that," LaPorta said. "He is a good guy."
 
Twelve draft picks after Hockenson, another Iowa tight end, Noah Fant, went to the Denver Broncos.
 
"I loved the coaching staff here and the way they were developing tight ends," LaPorta said. "I know the program has been great over the last 20 years under coach Ferentz, and that sealed the deal for me."
 
While LaPorta was impressed by the way the Hawkeyes developed tight ends, Ferentz was impressed by LaPorta's versatility.
 
"The other big part of the evaluation is that Sam was a good basketball player," Ferentz said. "You watch guys play basketball and see how they compete and you get to see their athleticism and ball skills."
 
Like all freshmen, most of fall camp and the first third of the season have been spent learning. He is one of three freshman tight ends in a room that also includes seniors Drew Cook and Nate Wieting, and junior Shaun Beyer.
 
"You always want to get the best experience from guys, and if there are older guys to help you along the way, that is the best opportunity for you," LaPorta said. "Nate, Drew, and Shaun are doing a good job helping me."
 
LaPorta has been on a quicker learning curve because of the loss of Fant and Hockenson to the pros.
 
"He has done a good job since the start of August preseason practice," Ferentz said. "He is not there yet, but he is improving every week and we're giving him a lot of work in practice right now.
 
"We still have most of our schedule in front of us, so I think there will be plenty of opportunity for him to get work and reps. Every rep he gets in practice is building to get him more ready."
 
Penn State and Iowa kick off at 6:44 p.m. (CT) on Saturday. The game is televised by ABC with Sean McDonough and Todd Blackledge on the call.
 
Iowa football hosts Minnesota in the battle for Floyd of Rosedale on Saturday, Nov. 16.  Fans are encouraged to wear black for the Blackout game, and it is the annual military appreciation celebration. Active duty military and veterans are eligible for a military ticket discount. Click HERE for tickets and pre-paid parking and additional game information.