Hawkeye Fan Shop — A Black & Gold Store | I-Club Events Page | Hawk Talk Monthly — October | 24 Hawkeyes to Watch 2019-20 | 2019 SMU CLASSIC RESULTS
DALLAS, Texas – The University of Iowa swimming and diving team completed the SMU Classic, finishing fourth amongst six teams with 242 points.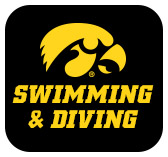 HOW IT HAPPENED
The 200-medley relay team of freshmen Millie Sansome and Aleksandra Olesiak, junior Kelsey Drake, and senior Sarah Schemmel opened the second day of the invitational with a fifth-place finish, in a time of 1:43.51.
Sansome re-surged in the 500 free, taking third in a time of 4:49.40. This finish is good for sixth all-time in the Iowa record books and marks her second entry of the weekend. Olesiak continued this hot streak, taking fifth in the 200 breast and just missing 10th all-time in Iowa history with a time of 2:19.09.
Sophomore Sam Tamborski captured Iowa's first win of the classic, posting a score of 302.00 on the 3-meter springboard. Senior Hannah Burvill took quick action on this stream and swam to third in the 100 free (49.83). Burvill is the first Hawkeye to break the 50 second mark this season.
Drake broke another threshold in the 200 fly, finishing third in a time of 1:59.74. Sansome rounded out individual placing in the 200 IM with a time of 2:04.02.
Burvill, Schemmel, Allyssa Fluit, and Lauren McDougall combined for the final event of the classic, posting a fifth-place finish in the 200-free relay in a time of 1:34.71.
The Hawkeyes finished fourth among the field with 242 points behind Louisville (333), Auburn (331), and Northwestern (315).
UP NEXT
The Hawkeyes take a short break before hosting Minnesota on Oct. 26 at 11 a.m. (CT). Admission is free.